Craving for something spicy to munch ? But the word DIET is holding you ? I too come under that category , who loves snacks anytime of the day but on diet always ( ha ha.. thats because my diet always breaks before it actually starts ) .Worry not ..there are few stuff that you can binge on without having to think twice about your weighing scale. Yes one such item is Spicy Puffed Rice .Spicy puffed rice is a popular snack throughout India and is known by various names such as Murmura Chivda, Sukha Bhel,Dry Bhel,Bhadang,khara pori,masala pori, Kadle puri,Mandakki churmuri etc. Whats in a name .. Just enjoy this low cal  snack if on diet or not..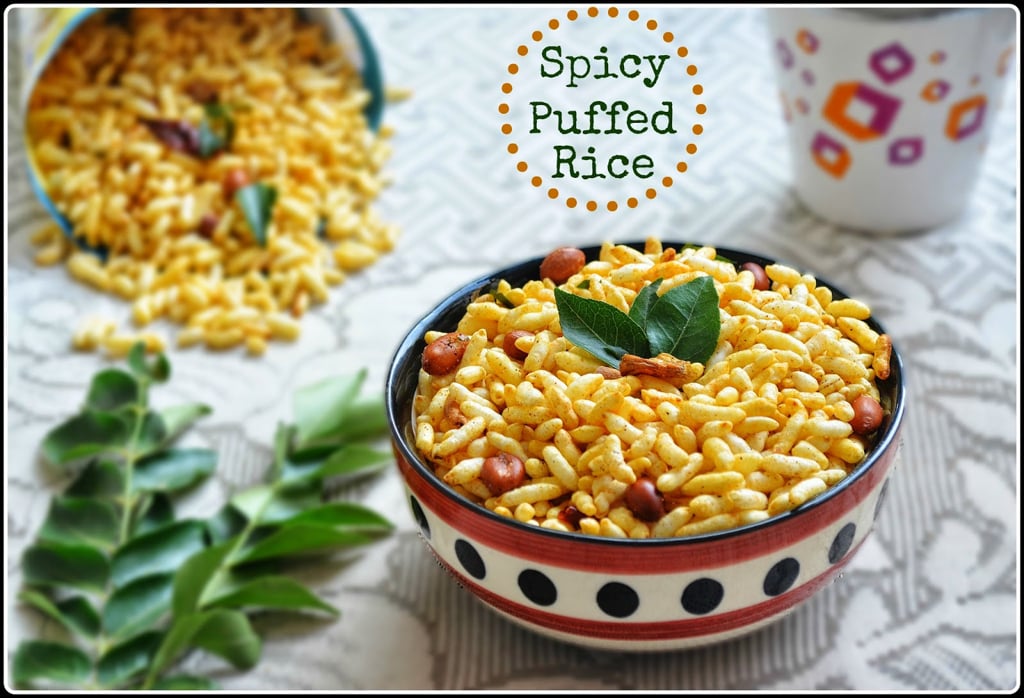 My hubby loves munching snacks once he is back from office but it should be something light,healthy and guilt free. Deep fried snacks make an appearance in my kitchen only once in a while. So i normally stock up a big container of Spicy puffed rice as everyone in my home loves it including kids. It is very easy to make too .Addition of crushed garlic enhances the flavour and my daughter always hunts for the fried garlic and peanuts in it.If you dont like garlic you can flavor it up with hing .So ready to learn a quick easy snack from puffed rice ? Here it goes ..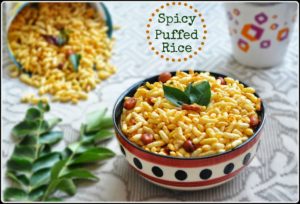 SPICY PUFFED RICE
Ingredients
Puffed rice /Rice krispies/Murmura

Mustard

pods

Garlic

Curry Leaves

Peanut

Chutney dal

red Chilly powder

Turmeric powder

,

Curry Leaves

Red Chilli

,

broken to pieces

Salt

,

( Check and add. Few plain puffed rice itself is salted )
Instructions
Peel garlic and keep aside. Keep all the ingredients ready.

Heat a broad kadai/pan and add oil. First add mustard and peanuts.

After a minute or so, add garlic pieces .Saute them on medium flame. Let both garlic and peanuts become crispy and golden brown.

Later add roasted gram dal ,red chilli pieces and curry leaves . Saute.

Once curry leaves are crisp add salt, turmeric powder and chilli powder .Mix well.Keep the flame on low. It gets burned soon.

Add the puffed rice and mix well so that all the puffed rice gets evenly coated with spices.Keep the flame on low and keep mixing for about 3-5 minutes , so that puffed rice gets more crispier. Switch off .

That's it.. our spicy crispy puffed rice is ready to munch.Store in airtight container once it cools .Stays crisp for upto a month if handled well. Enjoy it as it is or top it with chopped onion ,tomato and coriander leaves for that extra taste.

So friends , isn't this snack so easy to make ? I am sure you will add it to your list.. stay tuned for some more guilt free snacks..
Notes
I am giving you the ingredients without the quantity.You

can

use according to your preference.

There is no hard rule for the measurements in this recipe. If you like peanuts more then add it more.Feel free to plus or minus the ingredients of your choice.

Puffed rice must be fresh and crisp for this. Incase it has turned a bit soggy, keep it in microwave and heat for 1 min. Itt wil get crisp. Alternatively you can dry roast them in a wide kadai too.
If you dont like garlic , add hing / more of curry leaves and crush it later / menthe hittu powder towards the end ( this is a karnataka speciality nutrituous powder , recipe of this ill share sometime )
Add turmeric little more than you normally use.That will give nice color. Else the chiwda will look pale.