On 13th August 2015, I was invited for the Asus Bangalore Diva meet up at Taj Vivanta . The event was called the Divas Meet since only the selected Women Bloggers were invited for a fun filled evening where team Asus presented their very first ZenFone 2 Deluxe, ZenFone Selfie and the ZenFone Laser . An All girls only affair sounded interesting and i made it a point to attend.
The #ZenFestival is a series of events happening in 5 cities over August. The first, is the launch of the event in Delhi by the gorgeous Sonakshi Sinha. Second happened in Mumbai and then in Bangalore , Hyderabad and Pune.
All excited , i reached the venue on time but due to rains, heavy traffic etc the event started bit late . Till then i spent making new friends , catching up with old friends,clicking, roaming around…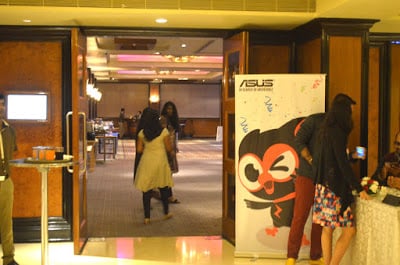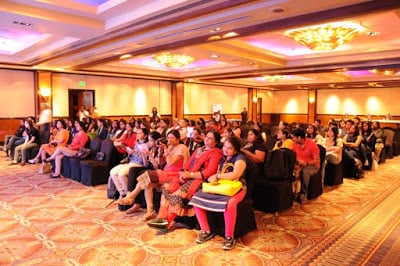 Finally the event started around 7.30 PM with Komal from team Asus (India) welcoming all the bloggers and explaining a little bit about the company and its growth.
She then introduced us to Mr. Arindham , Brand Manager who spoke about the success story of ASUS.
She then introduced us to Mr. Arindham , Brand Manager who spoke about the success story of ASUS.
He was taken over by Mr . Peter Chang , MD of Asus. Mr. Chang gave us an informal presentation about the different devices that were being launched and the features of these phones.
He and his team primarily introduced us to Zenfone Laser, Zenfone Deluxe , Zenfone Selfie and ZenPad 7.0 and ZenPad 8.0.
But the main focus for the day was the girls favorite Asus Zenfone Selfie .
We then had Steffi from Asus team who decribed us the features of Asus Zenfone Selfie . I liked the way she converted a technical demo session to lively interactive one.
Lol !! As per her Choosing a phone is like choosing a boyfriend !!! haha.. how true was that . And then she went on comparing and ticking desired featues of a boyfriend with Zenfone Selfie . Steffi .. You are so cool ….!!!
Some of the highlights of Asus Zenfone Selfie :
13 Mp camera both the front and rear side . With front flash first of its kind .
No more clicks and navigation of buttons to reach your camera… Just write a " S " and Voila selfie mode of camera is enabled !! Even when the phone is locked ..
A button on the back of the phone where your index finger would rest helping you to click selfies easily .
Great filters and photo enhancement features, which beautifies your images and also works well at low lights. With the beauty mode selected .. click a selfie with Asus Selfie for a even more glamorous YOU !! No more running away from Selfie !!
The display comes with anti scratching corning ( gorilla gaurd ) , which protects your screen even if it is dumped deep inside your handbag along with other stuff .
A macro focusing upto 6 cm .. infact better than iphone .

The selfie panorama option is also best .
And then came the surprise Diva for the day .. the gorgeous Anusha Dandekar . Now that was a surprise .. what was a model doing in a technical presentation ??
Hmm.. the evening changed entirely to a girls party after she entered .
VJ Anusha demonstrated the use of the Zen selfie, gave us some makeup tips for the perfect pictures and also some tips on how to take the best selfies.The selfie queen was the fun part of the evening .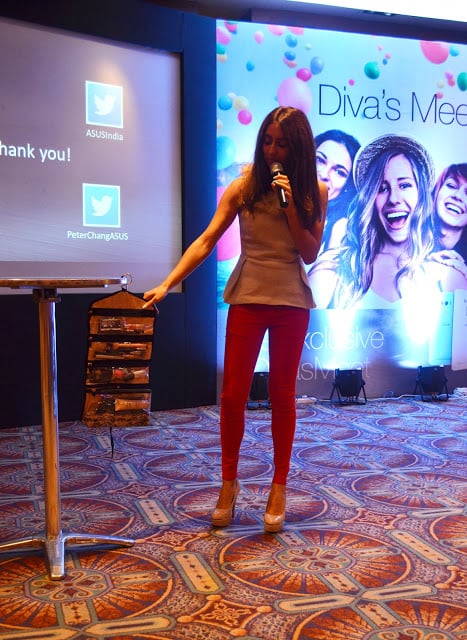 Did you know, the perfect way to click a selfie is holding your mobiile at your face level or higher, that makes you look lower on weight and highlights your face….
There were two fun contests held at the event. The first one was a funky selfie ramp walk contest wherein girls had to walk the ramp & click selfies at the same time
And the other was taking group selfies, without cutting your friends & at the same time making them look as gorgeous.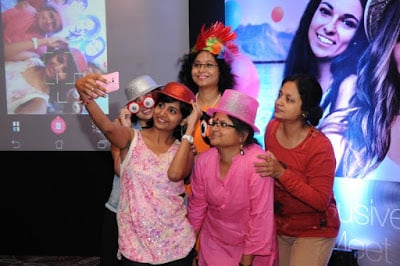 Winners for both the contests were chosen by VJ and they won Asus's Zenny pen-drive and a "Lolli Flash"
To end the session, we were introduced to ZenTalk, a platform to connect with ASUS users, upload photos clicked with their phones, and more.
We checked out all three models along with accessories, the Zenpower(10050 mAh power bank), Zenear(Ear phones), ZenFlash with Xenon Flash and super cute Lolliflash(Dual-LED light for natural skin-tone enhancement colourful outlook).
The event ended with some lip smacking snacks .
I had an amazing time at the #DivasMeet. Pestering my hubby to gift me an Asus Selfie mobile for my birthday…… Fingers crossed.
Thanks for reading the post….plz drop ur valuable comments.. it really motivates me…Also If you liked this post, I would really love it if you could share it …Thank you !!
Love ~Smitha