Chaat captures the heart and soul of any city. They are always famous irrespective of age and is enjoyed by one and all. I am sure there would be hardly anyone who doesn't love chaat . So today i have one lip smacking chaat from the streets of Bangalore  " Boondi Chaat Recipe" . It's crunchy , crispy , yummy and a great crowd pleaser . This boondi chat is very easy to make . One can make boondi readily available in the market or make at home . To make boondi chat more interesting and appealing i thought of making colorful boondi using Sprig Natural Color extract . Wow .. the end result was not just tasty but a real treat to eyes .
I have been using Sprig Gourmet products from some time and i really love them . So recently when i was browsing there website .. i stumbled upon these all natural food extracts and wanted to try . I I really liked the fact that the 3 colors Marigold Yellow , Spinach Green ,and Paprika Orange are all natural and the these extracts are entirely from edible pigments, naturally occurring in fruits, flowers, leaves and roots .  I believe  colours play a very significant role and it's very important how visually appealing the food is when you present . So i thought of using these Sprig natural color extract and making my boondi chat super tempting . You too try and enjoy the tasty visual  treat ..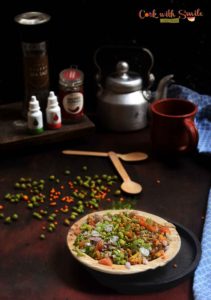 BOONDI CHAAT RECIPE / DAHI BOONDI CHAAT WITH SPRIG GOURMET PRODUCTS
Ingredients
To Make Boondi
1 1/2

Cup

Gram Flour Besan

1/4

cup

Rice flour

a

pinch

Baking soda cooking soda

a

drop

Sprig Food Colors

Salt to taste
To make Boondi Chat
1

Cup

Boondi

2

tbsp

onion

,

Finely chopped

2

tbsp

carrot

,

Grated

2

tbsp

tomato

,

finely chopped

2-3

tbsp

Spicy fried peanut / congress kadlekai

1/2

tsp

Chaat masala

1/4

tsp

Jeera Powder

1/4

tsp

Sprig Celery Sea Salt

,

as needed

1/4

tsp

Sprig Paprika powder

3-4

tbsp

yoghurt

1/4

tsp

Dates chutney / sweet chutney

1/4

tsp

Mint Chutney / Green Chutney

few

Coriander leaves
Instructions
Make colored Boondi :
In a mixing bowl, mix both flours, salt, cooking soda with water to a thick batter. Like bajji batter. Separate the batter into 3 bowls and add a drop of different Sprig natural color extracts into each bowl .

Heat oil and use a big slotted spoon to make boondis . Once crisp .. drain them on a paper towel . Color boondi's are ready .
To make Boondi Chat
In a mixing bowl .. mix onion , tomato ,fried peanuts , chat masala , jeera masala , Sprig smoked paprika powder , Sprig Celery Sea Salt

Add The crispy boondi to it and gently toss . Transfer masala boondi to a serving plate . Top it with some yoghurt , mint - dates chutney and garnish with corinader leaves and pomogranate chutney .

Enjoy the lipsmacking Boondi chaat immediately