In India and probably across the world, the idea of cooking delicious food turns "ON" many food enthusiasts to enter their kitchen but washing the utensils post cooking has always been a mood turn "OFF". They prefer going to restaurants and spend less time in kitchen… with the slightest thought of doing this routine chore of dish washing. Hmmm…. Since I love cooking and experimenting, I somehow motivate and push myself by saying that I am having at least the first part of my job in the kitchen (cooking) interesting and other part not that bad.
Tried a couple of maids for washing utensils but not at all satisfied by the end cleanliness. Also I am fed up of the tantrums they throw if there are 1-2 extra vessels , little more extra greasy vessels and on top of that these maids keep taking leaves un informed . My maid might take an off…but not my cooking ….
Then came the idea, why not try out the dishwashers available in the market? Some research, some reviews on internet made me choose BOSCH dishwasher (Model SMS53L88EU)over others. My hubby too agreed with me and soon we ordered this machine for our home.
The service and the support for dishwasher were evident from the week 1 itself. There was a pre-installation visit by the service engineer even before the unit was delivered; to see what resources are available and what's required for the installation of the machine at our house. And once the machine was delivered; within a day the service engineer came with all the necessary accessories to install the unit and also to give a demo of its working. . He also gave me a dishwasher approved detergent kit. It had 3 elements – Detergent, Rinse Aid (to give shine) and salt (to reduce water hardness) that has to be added in the mentioned compartments of the dishwasher before we load vessels into it.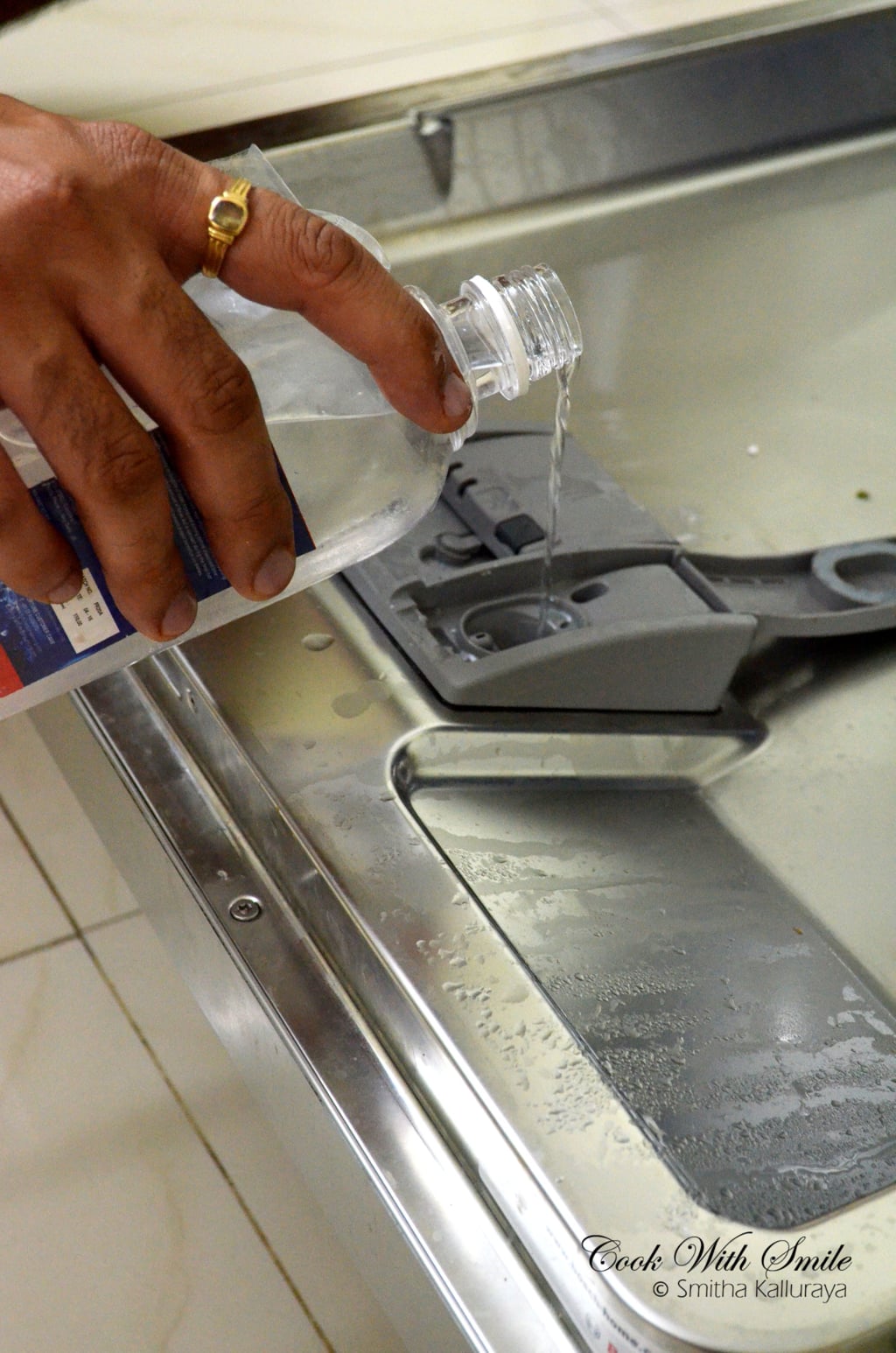 For good dish washing, BOSCH recommends usage of specific salt, rinse aid and detergent. Use of other regular dishwashing detergents are not recommended.
Soon I started using my dishwasher and when I posted it in FB about my new kitchen assistant, many friends started pinging me asking for feedback. It was then I decided I must write a complete review of BOSCH Dishwasher and here are some of the evident features of the machine which I love …..
Absolutely no sound during the operation.
The "Super-Silence" 44dB machine as the BOSCH claims has absolutely no sound during dish washing even when operated during the night. I actually put all my utensils for cleaning at the night to see them glittering the next morning without disturbing anyone's sleep. Even if you are standing next to the dishwasher and your ears are glued to the machine…you can hardly make out if it's running or not …
Glittering vessels with almost zero effort
As many would be very keen to know… "How clean have been the utensils at the end of the wash?" I would say that my stainless steel vessels have been glittery clean in each wash. As you all know Indian cooking makes utensils very greasy, slimy, charred and very difficult to clean. We have to scrub those milk vessels, tea vessels, idli plates, heavy kadai, etc. to remove all the grease and left overs. But with dishwasher…there is no scrubbing involved, it includes spraying hot water, detergents and then more hot water and finally drying with hot air. And, Wow!!! You will see glittering dry utensils at the end, where you can directly use it for cooking once the dishwasher cycle is over. You save each day so much time and energy!! Fill it, Shut it, Forget it…
Space to accommodate different sizes of utensils.
The flexible dual basket design with foldable racks and shelves allows accommodating different sizes and variety of utensils. With the four moveable foldable racks there is also room for larger pots and dishes. There is a separate cutlery basket provided for small spoons and forks. Arranging vessels initially did pose a challenge but with time we learnt how to utilize the space maximum to get best results.
Low on resource consumption (Electricity and Water).
The machine is very efficient in washing while consuming less water and electricity. There are selective program options for different type of cleaning and drying and based on the type of vessels you can choose from them. In auto mode the entire washing cycle takes approx. 2 hours but uses only that much water, as required while giving you a perfect wash. Since it's an energy saving model, power consumed is also less….end of the month I was happy that my electricity bill didn't give me any shockers.

Hassle free operation even during power cuts
In case there is a power cut during the running of the dishwasher, it will resume from where it left off, once power returns. There are indicators on the control panel to show water cut/ leakage, reduced salt, rinse aid and detergent shortage.
Having said the advantages, you may ask…are there no flipsides to this machine. There are few which can definitely be side-lined taking into consideration its advantages.
The size of the dishwasher is big…similar to the fully automatic washing machine. So you need to figure this space in your kitchen/ utility space before buying it.


You cannot load all types of vessels into it. Aluminium, copper, low gauge plastic boxes etc. cannot be washed in it.
Can't clean some dirty vessels that have dried. Have to rinse them a bit before placing in the dish washer.
For good dish washing, BOSCH recommends usage of approved Automatic Dishwasher specific salt, rinse aid and detergent. We cannot use other cleaning products. So that adds to some additional expense… but yes its getting compensated by saving your maid pay.

Overall, I must say I am just loving my cooking passion more than before as I don't have to think twice about the dirty dishes that comes with it. It's really worthy for the amount spent.
If you ask me a one-liner to express my views, I will say:
"My maid might take an off, but not my cooking. Thank god for my Bosch dishwasher"
For more details about the various Dishwasher models and the pricing, do check out Bosch website ….
Thanks for reading the post….plz drop your valuable comments.. it really motivates me…Also If you liked this post, I would really love it if you could share it …Thank you !!
Love ~Smitha