Today's post is one of those quiet essential items that would be stocked in almost all South Indian pantry's.Yes im speaking about "Chutney pudi / powder" which everybody just loves at my place.Apart from chutneys and sambar, chutney powders are perfect accompaniment to almost all south indian breakfast items.Its a life saver on those busy mornings,lazy mornings,when you don't have time/mood to prepare chutneys.For bachelors / for someone who stays away from home chutney pudi always tops the " list of food items to be taken back" .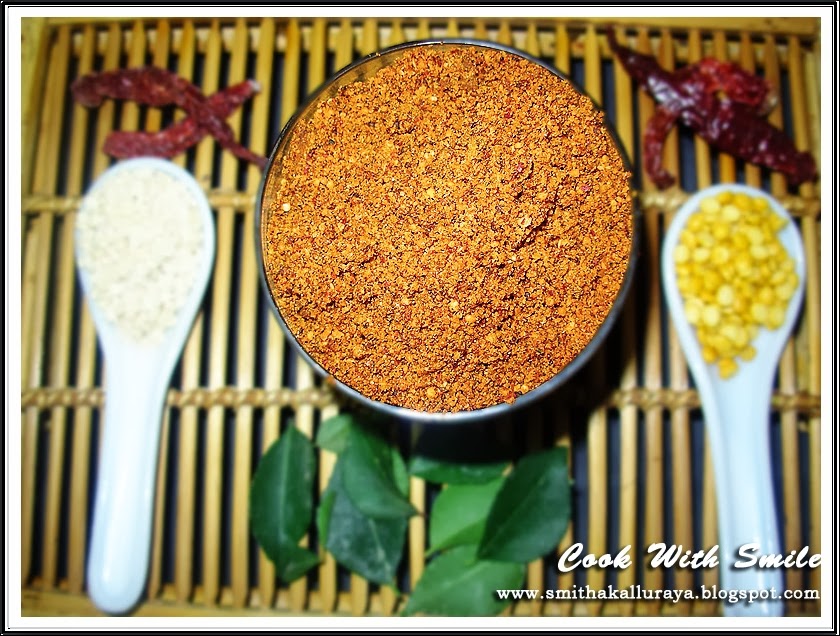 I know people who are not from South India might be wondering , what is Chutney pudi / powder? How do you eat it ?Chutney powder is basically a staple condiment like pickles, which is mixed with a liberal quantity of ghee/butter/coconut oil/sesame oil/curd and served as an accompaniment with Idly/Dosa/ any breakfast variety.So chutney powder can be called as dry chutney.There are tons of variations for chutney pudis and each one has a unique taste according to its preparation which varies from home to home and state to state..
Here i'm sharing with you all a traditional family recipe of basic chutney powder passed carefully from hand to hand.Its a simple recipe where in the lentils are coarsely powdered and spiced and flavored up making them taste spicy,sweet,sour and salty .Of course , they are easily available in stores, but i hope you spare few minutes to make them at home as  nothing can beat the healthy ,fresh aromatic ones prepared at home…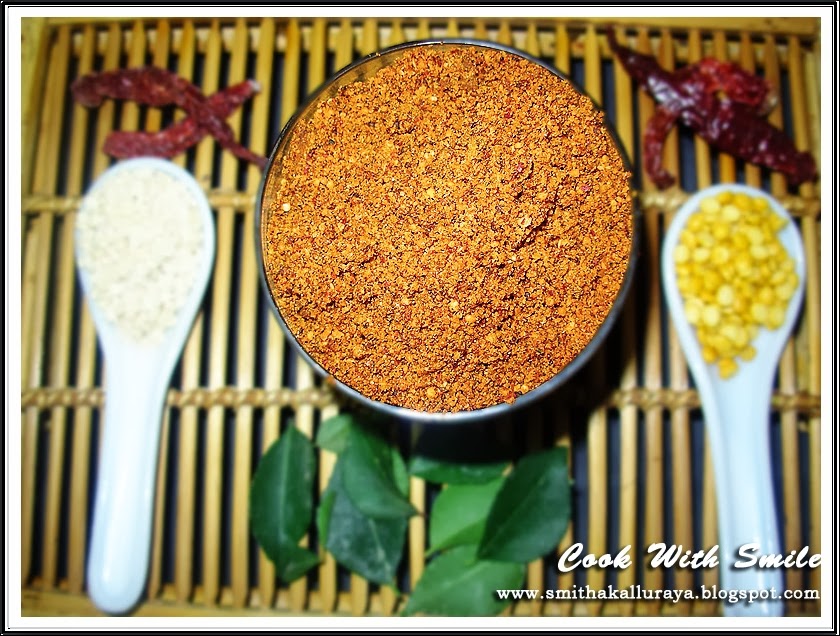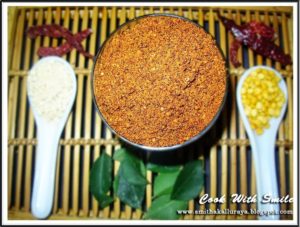 CHUTNEY POWDER
Ingredients
1

cup

Urad Dal black gram

1

cup

Chana Dal Bengal Gram

1/4

cup

Tuvar Dal/split pigeon peas

,

(optional)

1

cup

Grated Kopra / Dried coconut

1

cup

Dried Red Chilli

,

spicy variety (Guntur)

1 1/2

cups

Dried Red Chilli

,

Byadgi / kashmiri ( gives deep red color and comparatively mild)

1

cup

Curry Leaves

big lemon size

Tamarind

,

cut to small pieces

Jaggery

,

Small piece

Salt
To Seasoning
1

tsp

Mustard

1

tsp

Haldi turmeric

1

tsp

Hing /Asafoetida

2 - 4

tbsp

sunflower oil /Coconut Oil
Instructions
In a frying pan or kadai on medium low heat, dry roast chana dal until its aromatic and light red in color. Do not brown . Transfer it to a plate and allow to cool.

In the same frying pan similarly dry roast , urad dal and tuvar dal separately till they are aromatic and light red in color. Transfer them to a plate and allow to cool. Keep all the dals separate.

Next on a low flame in the same frying pan, dry roast kopra till they are little crisp. Transfer it into one more plate.

Add a teaspoon of oil to the frying pan. Keep the flame on low and roast red chillies.Mid way, add curry leaves, and continue to roast , till both red chillies and curry leaves have turned crisp.Transfer them to the plate containing roasted kopra.

Finally roast tamarind .Keep the flame on low and roast till they are crisp .Transfer it to the plate having red chillies. Allow everything to cool to room temperature.

In a blender / mixer , coarsely grind each dal separately.Transfer them to a large mixing bowl.

Next , transfer the mixture of red chillies, curry leaves,tamarind and kopra to the blender. Add salt and jaggery .Make a fine powder.Transfer the powder to the mixing bowl having coarse all dal powder.

Prepare a tempering. Add oil to the kadai.When its hot, add mustard seeds. When it spluters add hing and haldi. Switch off the flame . Pour the tempering on the chutney powder. Mix well .Taste and adjust the seasoning if required.

Lastly run, the hand mixed chutney powder in a mixer for 1 -2 rounds so that it gets mixed uniformly. That's it, tasty chutney powder bursting with flavors is ready.Store it in air tight containers and use when required.Tastes best upto 6 months.

To serve mix a spoonful of chutney powder with a dash of ghee / butter /coconut oil/ sesame oil /curd and serve as an accompaniment for Idly /Dosa/Paniyaram/Karnataka style rotti/adai / even hot rice
Notes
Always store chutney powder in airtight container. See to it that water or moisture does not enter the container. Else they will. If stored properly, they stay best upto 6 months. No need refrigeration.
Roasting and grinding each dal separately is very important.Also roast them uniformly and well so that they chutney pudi tastes good and lasts longer.
In the above , i have used two types of red chillies , as one gives color and the other required spice.Together they compliment well .But you can use 1 type of red chilli too , whichever is available to you.
Instead of jaggery you can also use sugar.
You can also use tamarind powder if its available.