Parents always want to give best education to their children … a good school, a good college , a good course so on. In this new internet era, gone are the days where in you have to personally visit the college for all the basic information. I still remember the time when i had to join college.Many colleges didn't have websites & even if they did there wasn't much information on them. So admissions involved running around to multiple colleges & standing in long queues just to get basic information,collect brochures etc . Uff… now everything is so hassle free. To make things more easier there is collegedunia.com. Through Collegedunia.com you can get the information about top colleges and institutes in India.It has information about 20,000 colleges and 6,000 courses on the portal.
About Collegedunia.com
Collegedunia.com is wholly owned product of Collegedunia Web Pvt. Ltd. based in New Delhi. The website has been created to fulfill a vision of empowering students with knowledge so that they make a wiser decision while choosing their career and alma mater.It  is an extensive search engine for the students, parents, and education industry players who are seeking information on higher education sector in India and abroad.
How it works ?
When you click on www.collegedunia.com, you will land to its home page.You can see that the home page allows you to search for colleges and courses.There is a search bar where you can easily search for the college of your choice. You can even mention the city name and it will list all the colleges matching the name of the city.There are tabs that you can use to browse through colleges for categories based on streams like Engineering,Medical,Law,Arts,Commerce etc.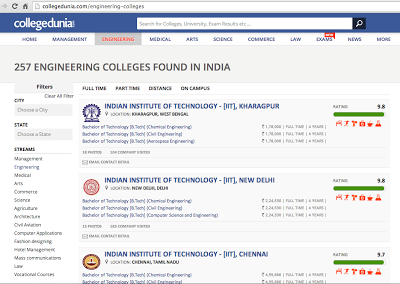 Once you select a particular college ,you get a comprehensive list about the college which has details like course available,fees,cut off, reviews,contact info,placements etc. Isn't it so helpful ?
At the bottom of the website there is an interesting flash news about the educational field.
They also have a tab for exams which lists the info of all the major competitive exams of various fields.This is indeed handy.
You can also signup and create your account in Collegedunia.com and get personalised information counselor help etc all for free.
Collegedunia.com is indeed  a one-stop information point for anything to do with education. And its absolutely FREE !!!
Pros :
User friendly portal. Easy to navigate and use.
Free of cost.
Students can use Collegedunia.com as a one stop destination to search about their dream college, available courses, admission process and a lot of more interactive tools.. Its an one stop shop.
Offers latest educational news, has an educational blog,competitive exams list..
Personalized counselor service once you register.
Cons:
Since collegedunia.com is a very new portal, currently we have information pertaining only to few cities like Bangalore,Delhi,Mumbai, etc. I am sure over the time they will spread their wings to other cities too.
Final Verdict :
Collegedunia.com is surely a website that everyone preparing for graduation or post- graduation must pay a visit. This website will give you a clearer picture of what to expect from a particular college.College Dunia is a one stop solution for students to explore information about colleges, universities and courses.
Via this blog, I would like to thank them for the amazing portal, and wish them best of luck!
Thanks for reading the post….plz drop ur valuable comments.. it really motivates me…Also If you liked this post, I would really love it if you could share it …Thank you !!
Love ~Smitha