Is there any South Indian Cuisine that does not use Curry leaves in its tempering? These leaves infuse a wonderful flavor to any dish they touch and make their presence felt. In spite of being a key seasoning ingredient it is most often discarded while eating .Result , nutrient rich herb that is so good for health,never gets eaten.Today i bring to you a recipe where curry leaves is the hero.. That's "Curry Leaves Chutney Powder / Karibevu Soppina pudi / Karuvepillai Podi". This chutney pudi ensures that you actually ingest all the good qualities of the curry leaf enjoying its taste equally..
Curry leaves has many health benefits like they help in reducing hair loss n premature graying of hair, helps in digestion, reduces acidity and indigestion,control diabetes,lowers cholesterol etc.Curry leaves powder are also given to newly delivered lactating mothers in some parts of India,considering the health benefits it has. Hey did i say it helps in weight loss too ? Yes , Incorporating curry leaves powder in the daily diet will help in losing weight by taking out fat and and many other toxins from the body.
Making Curry leaves chutney powder is very easy .Make it once and relish it for next few months.They can be served along with steaming hot idlis, dosas, curd rice, plain steaming hot rice+ghee/oil etc. I sometimes add a tablespoon of this to any vegetable or curries too to enhance taste and flavor.These type of spice powders come very handy when you are lazy to cook or running out of time.We can also make yummy curry leaves rice using this.I'm sure reading all these many people are prompted to try this soon…So here goes the recipe…
Check Out the Video recipe here :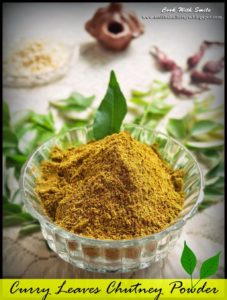 CURRY LEAVES CHUTNEY POWDER
Ingredients
2

cups

Curry Leaves

,

(tightly packed)

1/4

cup

Split Black gram / Urad dal

2

tbsps

Bengal Gram / Chana Dal

1

tsp

Coriander Seeds / Dhania

10 to 14

Dry Red chillies

1

tsp

Black Pepper

generous pinch

Asafoetida/ hing

Small lemon sized

Tamarind

Salt

,

– as needed

1-2

tsp

Oil
Instructions
Wash curry leaves and pat them dry using a kitchen towel /newspaper for few hours to remove excess water.

Take curry leaves in a pan.Dry roast them on low flame stirring in between for few minutes till they start shrinking.The curry leaves should be crispy and get crushed when u press it with your hands.Keep them aside.

To the same pan, add oil and roast urad dal ,chana dal ,coriander ,pepper,red chilli ,hing and tamarind.Let the lentil turn olden brown and chillies crisp.

Switch off. Add roasted curry leaves to it , mix and allow to cool.

When cool, grind this into a fine powder in a mixer. Ensure that the mixie is dry.

Store this in an airtight container and handle it with a  clean ,dry spoon as and when needed.Serve with idli ,dosa,paniyaram etc or just with hot rice topped with ghee or oil.Yumm….
Notes
You can roast curry leaves in a microwave too.
Dry roast all the ingredients in medium heat or else it will burn soon n won't be roasted properly.
If you want you can add little dry coconut too .Roast and grind it with other ingredients.