I love easy recipes!! Who does not ??… I am sure all of us . Today i have for you all one of the easiest and foolproof " Chakkuli " recipe. When i first saw this crispy " Rava Chakli " in a fb group, i bookmarked it as a must try. In the next few days i saw many people trying it and sharing their pics too. Everyone loved the recipe. This gave me double assurance and i decided to give it a try immediately as Krishna Janmashtami was nearing. And what a fantastic decision that was! They were super crispy ,so easy to make … i m sure even a beginner will have no fuss making chaklis,with this recipe in hand…
Chakli is a savory snack that can be prepared many ways. The traditional way of making it, calls for washing , drying of rice and urad dal. Then powder it in mixer or flour mill. Uff.. so much work..Usually my mom makes this chakkuli powder and gives me every year for janmashtami . For the typical chakkuli recipe see here .But for this year i have my instant chakkuli recipe .Chakkuli made this way turned out to be more crispier and stays that way for atleast a month . They taste super yummy too… you can also check benne murukku
A big thanks to Vinutha Rao ….for inspiring me to try this out and blogger in me is happy for sharing the recipe with more people … One keeper of a recipe ! This Janmashtami you too try making chaklis using this recipe n i am damn sure you 'l love it …
Check Out the Video recipe here :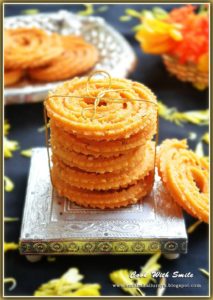 EASY RAVA CHAKKULI
Ingredients
2

cups

Rice flour

1

Cup

Fine Rava / Chiroti Rava

2

cups

Water

,

-  + if required

lemon sized

Butter

2

tsps

Cumin seeds / jeera seeds

1 - 2

tsp

White Sesame seeds / til

1-2

pinch

Asafoetida/ hing

1

tsp

Chilli Powder

,

- ( optional )

to taste

Salt

oil for frying
Instructions
Take 2 cups water in a wide vessel . Add salt . Keep on stove and bring to boil.

When the water starts boiling , add rava slowly.Keep stirring so that no lumps are formed. Let it thicken to upma consistency. This may take 1-2 mins after adding rava. Switch off.

Then to it add rice flour, butter, jeera,til,hing and chilli powder. Knead into a dough.If required sprinkle little warm water.Knead it into medium soft dough, neither stiff nor loose.

Now heat the oil in a kadai / pan.

While the oil is getting hot, grease the chakli mould and fix the chakli plate to chakli mould . Divide the dough into parts . Add one part of the dough to the mould & press .

Chakli mold: pic from google

Press the dough into spirals of Chakkuli on a wax paper or greased plastic sheets

.

Once the correct temperature is reached, gently holding the end of the foil in one hand, slowly remove the flattened discs and drop them into the hot oil in batches of 4-5 depending on the size of the kadai used to deep fry.Deep fry them on medium low flame on both sides till they turn crisp and golden brown both sides.Once done, remove from oil and transfer to a paper towel.

Repeat the same for the remaining dough.

Store the Chakkuli  / Chakli / Murukku  in air tight containers once cooled. Remains fresh for minimum 1 month.
Notes
If the chaklis are drinking oil ---> addition of butter to the dough is more,or flame is too  low. then either alter the flame or add some more rice flour.
If they are breaking while making spiral rounds ---> addition of butter to the dough is more.
If the chaklis are becoming soft ---> they are not properly cooked .
Check the oil readiness by dropping a small ball of dough into the oil. It has to come up immediately. This shows that oil has attained the right temperature n you can gently slide the chakli.
While dropping the prepared chaklis, the flame should be high,once they float to to top,reduce the flame to medium or medium low flame and fry till they become crisp.
Do not press all the chakli at one go. Make it in batches. Else they will dry .While the chakli is getting fried in oil, press the next batch of chakli.