Hi Friends ,
Today I have for you all one super duper healthy Chutney powder recipe that is cholesterol free,easy to make, tastes great and a big life saver on those busy / lazy days. I'm speaking about Flax Seeds Chutney Powder / Agase Chutney pudi / Alsi Seeds Powder.Bursting with health and nutty flavor, this flax seeds chutney powder recipe is a MUST try ( a keeper actually!! ) for all you health freaks and foodies out there!
These days flax seeds are gaining a lot of popularity for good reasons and there are many people out there who want to include them in their diet .Flax seeds are basically tiny nutty-flavored seeds have innumerable health benefits.They are known as Alsi in Hindi , Agase beeja in Kannada, jawas in  Maharashtra and Gujarat, ali virai in tamil and in telgu it is called as aviselu. If you speak to anyone trying to lose weight ,health freaks,Doctors or nutritionist, they'll tell you that flaxseeds are the ultimate powerhouse of nutrition.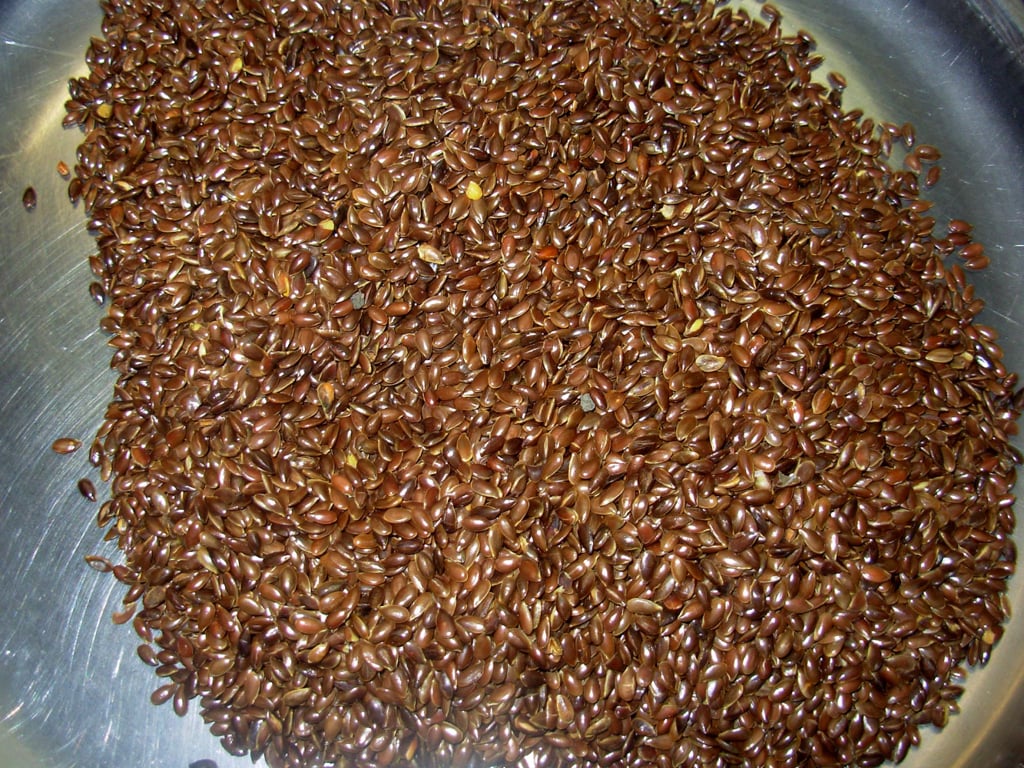 People who are unaware of benefits of flax seeds might be thinking what makes these tiny seeds top in the list of most healthiest food. Flax seeds are actually one of the best sources of Omega-3 fats.A typical Indian vegetarian diet typically misses out Omega -3 Fats. Now ,why do we need these Omega -3 ? Well,they help to regulate your cholesterol. Increase the HDL and lower the LDL and there by keeping a tab on heart related problems,BP,cholesterol problems,diabetics etc.And for ladies,Flaxseeds with their wonder properties are a brilliant solution for all kinds of hormonal problems.You can know more about it here…
Making Flax seeds chutney powder is very easy .Make it once and relish it for next few months.Perfect accompaniment to almost all South indian breakfasts.You can sprinkle a spoon of it to pep up your stir fries,salads or quickly use it to thicken your curries and gravies too.nutty flavor of flax seeds does wonders.Don't you think its worth to store them in your pantry too? Here we go..
FLAX SEEDS CHUTNEY POWDER
Ingredients
1

cup

Flax seeds

3/4

cup

Urad Dal / split black gram

1/2

cup

Chana Dal Bengal Gram

15 - 25

nos

Dried Red Chilli

,

( both kashmiri n spicy chilli mixed)

few

Curry Leaves

,

- more depending on your preference

a small lemon size

Tamarind

,

- cut to small pieces

Salt
To Seasoning
1

tsp

Mustard

1

tsp

Haldi turmeric

a pinch

Hing /Asafoetida

2

tsp + 1 tsps

Sunflower / Coconut Oil
Instructions
In a frying pan or tawa on medium low heat, dry roast chana dal until its aromatic and light red in color. Do not brown . Transfer it to a plate and allow to cool.

In the same frying pan similarly dry roast , urad dal till they are aromatic and light red in color. Transfer them to a plate and allow to cool. Transfer it to the plate having urad dal.

Now roast flax seeds.Roast till you hear the popping sound reduce.Transfer the flax seeds to a separate plate.

Add a teaspoon of oil to the frying pan. Keep the flame on low and roast red chillies and tamarind. Mid way, add curry leaves, and continue to roast , till all have turned crisp.

Allow everything to cool to room temperature.

Now dry grind flax seeds,chilli mix and dal ... all separately made to powder.Transfer to a big mixing bowl.

Prepare a tempering. Add oil to the kadai.When its hot, add mustard seeds. When it spluters add hing and haldi. Switch off the flame . Pour the tempering on the chutney powder. Mix well.Taste and adjust the seasoning if required.

Lastly run, the hand mixed chutney powder in a mixer for 1 -2 rounds so that it gets mixed uniformly.

Thats it,tasty and healthy Flax seeds chutney powder.Store it in air tight containers and use when required.Tastes best upto 3-4 months.

To serve mix a spoonful of Flax seeds chutney powder with a dash of ghee / butter /coconut oil/ sesame oil /curd and serve as an accompaniment for Idly /Dosa/Paniyaram/Karnataka style rotti/adai / even hot rice.
Notes
You can also make this chutney powder using peanut chutney powder recipe. that is replace all dal,instead use roasted peanuts and little garlic (Optional).
Always store chutney powder in airtight container. See to it that water or moisture does not enter the container. Else they will. If stored properly, they stay best upto 3-4 months. No need refrigeration.
Roasting and grinding each dal separately is very important.Also roast them uniformly and well so that they chutney pudi tastes good and lasts longer.
In the above , i have used two types of red chillies , as one gives color and the other required spice.Together they compliment well But you can use 1 type of red chilli too , whichever is available to you.
You can also use tamarind powder if available.