Who doesn't love bajji bonda ? In Bangalore the weather is getting very cool day by day . And when the weather is such… nothing but a couple of hot bondas plus a cup of tea/coffee can charge you up. He He..i know its just a reason to binge..So here i share today an addictive snack from Mangalore Cuisine …Goli Baje or Mangalore Bajji / Mangalore Bonda as known to all . Soft from inside and little crisp from outside they are delicious to taste ..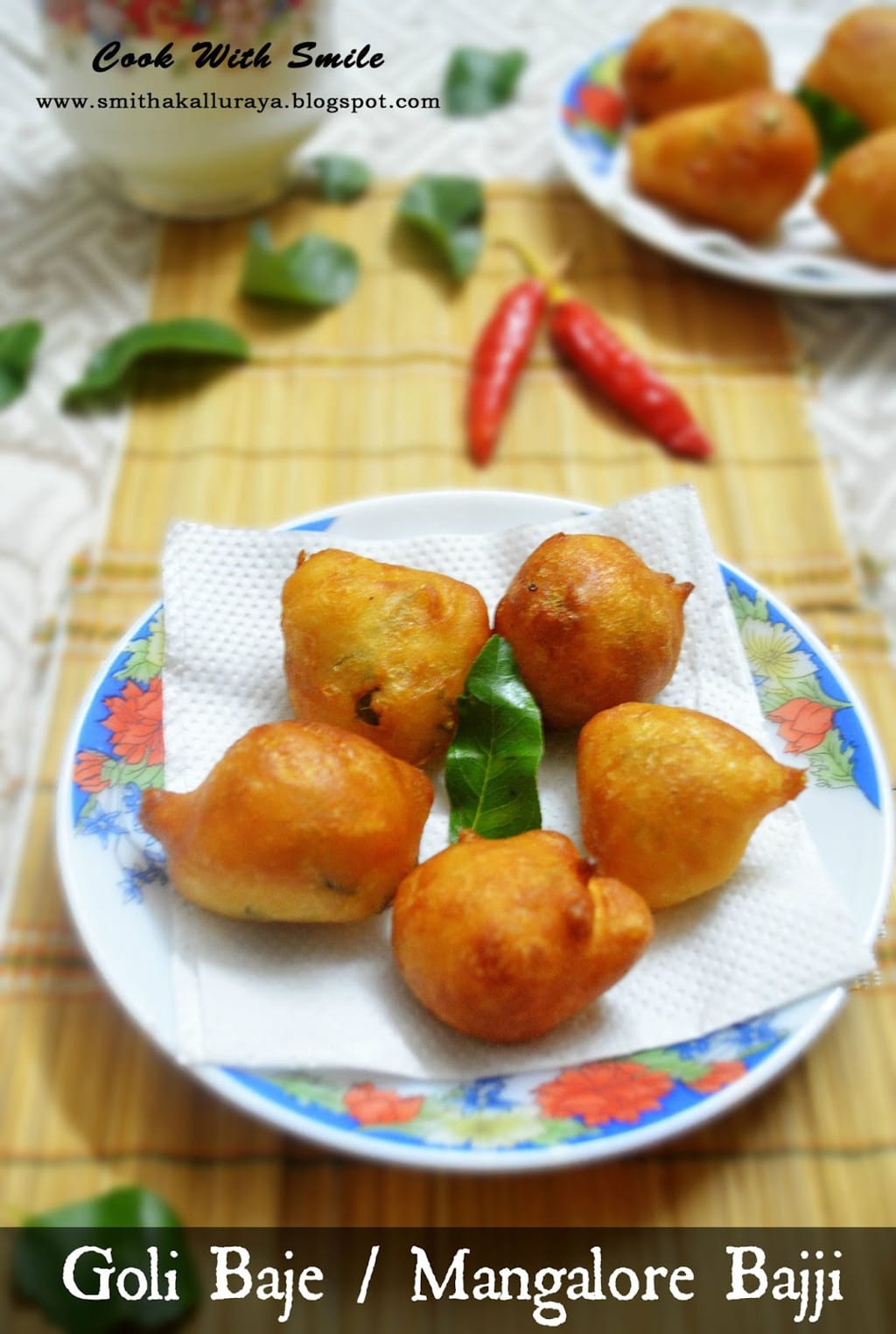 Many people call Mangalore bajji as Mysore Bonda too. But as per my knowledge they both are not similar.Mysore bonda is bonda made from urad dal while mangalore bajji is made from maida and sour curd. Making golibaje is very easy and simple but the batter does need a little bit of fermenting time.I usually make this batter  in the morning so that it is perfect to fry by evening. You can cut fermenting time a bit too but the texture of golibaje varies.So plan accordingly and yummy golibaje is all yours as your evening snack.  Being a Manglorean , i feel proud to share with you all the authentic way of doing Mangalore Bajji …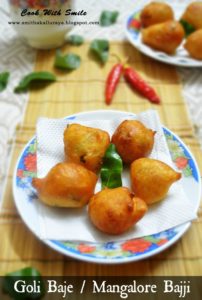 GOLI BAJE
Ingredients
1

cup

Maida All purpose flour

1/4

cup // little less than

Gram Flour Besan

1

tbsp

Rice flour /Cornflour

,

(optional,gives crispiness)

1/2

cup

sour curd /buttermilk

,

(as required for mixing the flour)

1/4

tsp

Baking soda

2 - 3

Green Chilli

,

very finely chopped

1

tsp

Ginger

,

grated or finely chopped

1/2

tbsp

Coconut pieces

,

very finely chopped (optional)

few

Curry Leaves

,

; finely chopped

a pinch

Asafoetida/ hing

Salt

,

- as needed

Oil for deep frying
Instructions
Add maida,gramflour and rice flour in a mixing bowl.Add sour curd or buttermilk to form a thick batter.If curd is not sufficient, you can add some water but the batter should be still thick.

Keep aside the batter for fermentation preferably 2-5 hours. A setting time of this long is the authentic way of doing it. But still if you are in a hurry, you can go ahead and start making bajjis after 20-30 minutes.** Refer NOTE no 2

Once the setting time is over,to the batter add chopped green chilli,ginger,curry leaves, coconut pieces ,hing and baking soda.

Meanwhile in a heavy bottom vessel or kadai , heat oil. Also keep a bowl with water ready to dip your hands in it.

Before dropping the batter into oil,check the consistency . The batter should be that thick that it should fall slowly from spoon.

Once the oil is ready for frying ,wet your fingers; take a small amount from the batter drop it in the oil. Repeat the same to drop 4-5 golibajes at a time in the oil and wet your fingers each time to get a nice round shape.You will observe that goli baje will bloat and start floating in the oil.

Fry on medium flame on both sides until the bajjis turns golden brown.Remove the Bajjis from the oil and place it on a tissue paper

Serve hot goli baje with coconut chutney or tomato ketchup and enjoy ...
Notes
The batter should be thick. Else they will take in lot of oil and also wont come out round.
Its preferred that you allow the batter to rest for atleast 3-5 hours. That will make golibajes light n fluffy wen they are fried.Else they will be little chewy and hard.
If the batter has become little thin you can add little maida flour.
To check the readiness of the oil, drop a small ball of dough (say around the size of the lemon seed). If the dough ball raises above the oil in a couple of seconds, the oil is hot enough to drop in the patties.
if you want you can add a tbsp of urad dal powder too for an extra taste.
If you want you can add few onion pieces too.