Today's recipe " Mangalore Buns ",as the name suggests is one of the trademark dishes of my native, Mangalore – Udupi region of Karnataka .Its a great way to use an over ripe bananas lying. Mangalore Buns are basically mildly sweetened,soft and fluffy in texture.Can be served for breakfast or as a tea time snacks.Best thing to pack for picnic or long travels.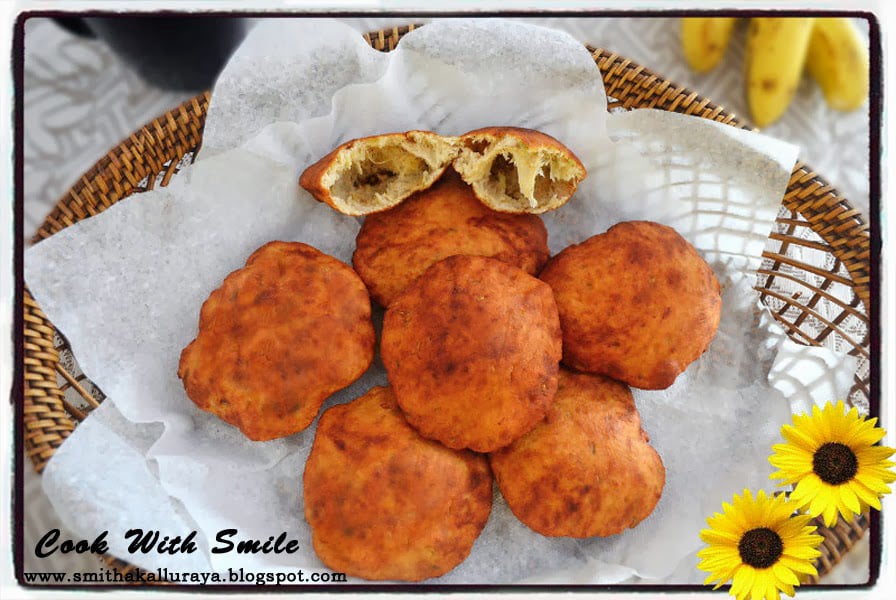 For many people,who are hearing the word " Mangalore buns" first time , the word " buns" itself is misleading.These buns are not baked version of buns, but a deep fried puri made with over ripe banana . You might be asking me now  : " Oh is it ?? !! Why the name " bun " then ? Why not Banana Poori ? " . But sorry to say i too don't have any answers to these questions. May be we should ask this to our ancestors.But i guess…, rather, cook a story… , for better understanding….
Long long ago somewhere in coastal Karnataka there was a mom who was fed up of buying bakery buns for kids . She wanted her kids to relish home made food. But the fussy kids wouldn't eat anything other than buns and the poor mom didn't know how to bake.She thought hard and came up with an idea. Took few over ripe bananas lying in the pantry ,mashed it and in went few more ingredients. Shaped them like buns ,fried it and served it to kids with a name " Amma's Buns ". Wasn't she clever and smart ? Guess what ? the kids got fooled ..as those buns had beautiful color from outside and very soft from inside , just like their favorite bakery buns ." Amma's Buns"got popularized from kids to kids ,moms to moms and became favorite among all age group …One fine day entered the restaurant menu  as "Mangalore Buns"…
Yes , that addictive these Mangalore buns are .The hot beautifully puffed golden brown Mangalore buns are treat on its own ! In spite of deep frying , they are not at all oily .But its best to plan ahead when making these buns, as the fermentation process involved in making these buns ,helps in giving them a differnt texture from the normal pooris .
What are you still thinking of, Go on..jot down the recipe..and enjoy …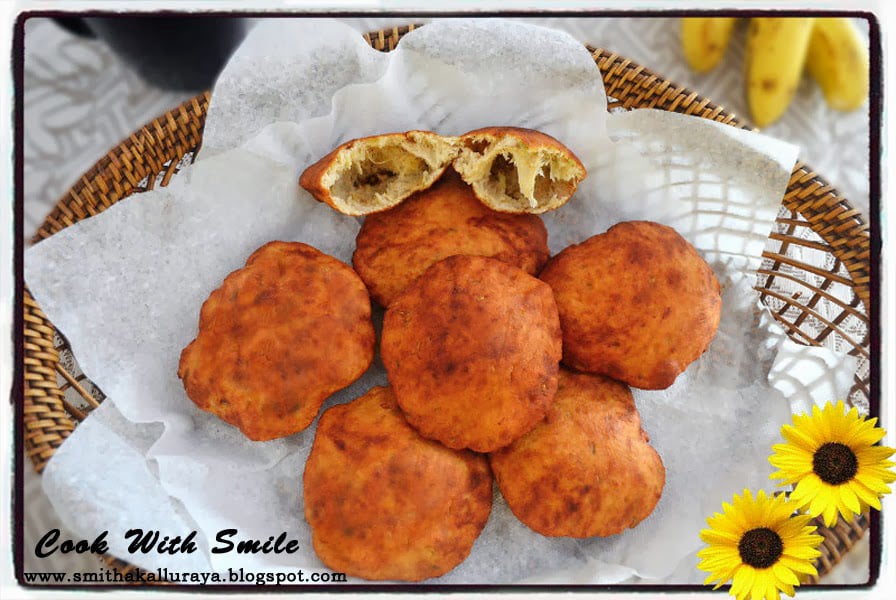 MANGALORE BUNS
Mangalore Buns are basically mildly sweetened,soft and fluffy in texture.Can be served for breakfast or as a tea time snacks.Best thing to pack for picnic or long travels.
Ingredients
1

cup

All purpose flour maida

,

+ for dusting

1

over ripe banana

,

( spotted Cavendish preferred , but u can use any other ripe Banana too )

3 - 5

tbsps

Powdered Sugar

,

( depending on your sweet level )

2 - 3

tbsp

yoghurt

1

tbsp

Ghee

3/4

tsp

Baking soda

1

tsp

fennel seeds saunf

1

tsp

Salt

Oil to deep fry
Instructions
Peel the bananas.Mash it with your hands or food processor completely such that no lumps are there.Add sugar powder and mix.

To the mashed bananas add maida, salt,baking soda,curd,ghee and saunf . Start to knead the whole mixture ,without adding water.Moisture of banana puree and curd will bind the mixture.You will observe that the dough is little sticky while kneading.Don't worry,continue kneading to form a soft dough , little tougher than chapathi dough as it will loosen up after fermentation.In case even after kneading, you feel your dough is little gooey, you can add 1-2 tbsp of maida and mix.

Finally add a tsp of oil and gently knead the dough 2-3 mins till it becomes non sticky.Cover and leave it aside for 4-6 hrs or overnight, if doing for breakfast .

Divide the dough into big lemon size balls( ping pong ball size ) .

Heat oil in a deep pan or kadai .Test the oils temperature by dropping a pinch of dough into it. If the dough raises and floats on the surface immediately, it means oil is ready to use .Reduce the temperature to medium low.

Roll dough balls into small thick discs (like poori ) by dusting floor. It should be thicker than the regular pooris. Gently pat the discs to remove extra flour used for dusting.

Gently slide the poori to hot oil .With the help of slotted spoon, press its surface gently , this will help poori to puff up .Also, lightly splash hot oil on poori .This will make poori puff more .

Flip and cook poori on both sides till it gets deep golden brown on both sides .Let the flame be on medium low.Drain oil and transfer on a paper towel.

Continue the same process with the remaining dough.

Serve these yummy Mangalore buns hot / warm / cold as such or with spicy coconut chutney .You can even serve it with sambar or tomato ketchup .
Notes
NOTE :
Traditionally Mangalore buns are made from maida. But if you want you can replace maida with wheat flour or use a combination of maida n wheat flour .
They are usually mild sweet and little salty. So don't add too much sugar.
For Mangalore buns most of the people use cumin seeds ( jeera ) instead of fennel ( saunf ) seeds. But i feel with saunf it tastes more better. You can try both version too.
If you want you can even add a tsp of pepper powder or cardamom powder for extra spice and flavor.
Let the dough rest nicely before using. This will help in getting a nice texture.The more standing time you give the more fluffier they turn.This is the most important step.
Use ripened bananas.Long or even small variety will do.
Mangalore buns can be stored for a couple of days. So you can consider it for packing while traveling.