Mosaru Kodubale Recipe | Mosaru Kodubale Recipe with step by step photos | How to do Karnataka style Mosaru Kodubale| Majjige kodubale recipe  
Today I have for you a famous Karnataka special snack – " Mosaru kodubale or Majjige kodubale ". It is spicy, slightly sour , delicious, crisp from outside and little soft from inside. "Bale" in Kannada means bangles and "kodu" is horns. Since this snack is ring-shaped, I assume someone named it "horn-shaped Bangles". And "Mosaru" means, Curd. Since in this version of kodubale , there is addition of curd, it's known as mosaru kodubale. Unlike the regular kodubale , these cannot be stored for weeks. Crispy from outside and little soft from inside, they are so addictive and delicious.
I had earlier shared the typical more popular version of Kodubale . However, this recipe is completely different from that. Mosaru kodubale is popular only in few regions in Karnataka. This kodubale are slightly sour, spicy and each bite of it is so tasty. For best taste, don't skip sour buttermilk/curd. This is what makes the dish to a different level. Addition of spices like chilli, hing, herbs etc adds to the taste.  Enjoy hot !!
To fry these Majjige Kodubale I used Idhayam Mantra Groundnut oil , which made the snack tastier and more authentic. I loved how fresh and flavourful this oil tastes. As it does not reach the highest smoking point, IDHAYAM MANTRA keeps your food carcinogen-free and hence I can re use this oil for making dosa, sabzi , tadka etc. To know more about this oil, click here 
Few variations and points to note while making Mosaru Kodubale:
Use sour curd/buttermilk for best taste. Else they taste bland.
You can also add 2-3 tbsp of soaked moong dal to the dough
As a variation, you could also add little chilli powder , finely chopped onion.
Some of the other Karnataka spl snacks that you can check: Maddur Vada, Golibaje, Cabbage Pathrode, Kodubale etc.
Check out the video  here :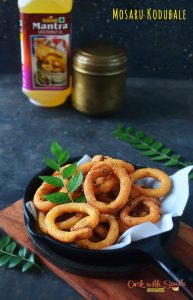 MOSARU KODUBALE RECIPE | MAJJIGE KODUBALE
Mosaru Kodubale / Curd Kodubale is a different variety of Karnataka famous snack Kodubale. This version is made from rice flour , sour curd , green chilli and few spices.
Ingredients
1

cup

Rice flour

1.5

cup

Curd/ sour buttermilk

or

1.5

cup

Sour curd + Water

,

mixed together

1

tsp

Cumin Seeds / Jeera

a

big pinch

Asafoetida/ hing

3-4

nos

Green Chilli

,

finely chopped

few

Curry Leaves

,

finely chopped

few

sprigs

Coriander leaves

,

finely chopped

1

tsp

Oil

Salt to taste

Oil to deep fry
Instructions
In a large kadai / pan , take sour butter milk . Keep the flame on low . If you don't have butter milk, add a cup of sour curd and add half cup water, whisk and add.

To the buttermilk add cumin, hing , chopped curry leaves, coriander leaves, green chilli and salt. Mix well. Let the flame be low on only .

Bring the flavored buttermilk mix to boil . Let ot boil for 1-2 mins .

Add rice flour to it slowly . Add a tsp of oil . Do not mix the flour .

Simmer the flame and cover for 2-3 mins.

Now mix rice flour well with buttermilk , slowly in 2-3 mins you will see that all water content has absorbed and slowly it starts forming a dough.

When a single lump dough is formed, done .

transfer the dough into a large mixing bowl and allow to cool slightly. When the dough is still warm , knead the dough nicely to form a soft non-sticky smooth dough.

Now, heat idhayam mantra oil for deep frying in a kadai or pan on medium flame.

Next roll kodubale.Take a lemon size dough,gently roll on a flat surface to make a thick rope like and press the ends to form a ring.Press it well to seal the edge.Similarly make about 8-10 rings and keep aside.

Once the oil is hot,gently drop the ring into hot oil in batches .

Deep fry them on medium low flame on both sides till they turn crisp.Once done, remove from oil and transfer to a paper towel.

Enjoy hot Mosaru kodubale with chai / as such.
Video