Few days back I had posted a detailed recipe for Pathrode also known as patra or alu vadi in Gujarat and Maharashtra.You can see the recipe for pathrode here .In that post i had mentioned that i usually serve the pathrode in three ways. First way is to just serve the steaming hot sliced pathrode with a dollop of butter / coconut oil.Second way is to tawa fry sliced pathrode pieces with little oil and serve crispy hot pathrodes .And today's post is about the the third method of serving pathrode , where small chunks of pathrode are seasoned and stir fried. This version of pathrode is popularly known as " Pathrode Usli /Pathrode Upkari / Pathrode Oggarne ".People who have tasted pathrode in all 3 forms , know that which ever way you serve they get vanished in no time. So my advice is attack the pathrodes together or and you might be left behind staring at the empty plates :(:(…
I usually do Pathrode usli to finish off the left over pathrode. But Frankly how can a dish as yummy as pathrode has some left overs. But we all like pathrode as usli too. So to make it , i forcibly keep atleast 1 log of pathrode as left over, so that we all can relish seasoned pathrode too.It tastes very good once it is seasoned. Whenever you make pathrode, don't forget to try this usli. Its worth to give a try.
Check Out the Video recipe here :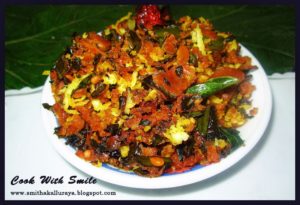 PATHRODE USLI
Ingredients
1

Pathrode roll

2

tbsp

Jaggery

1

tsp

Mustard seeds

2

tsp

Urad dal

1

tsp

Chana Dal

2

Dry Red chillies

Few

Curry Leaves

2

tbsp

coconut

,

gratings

2

tbsp

Oil

,

(preferably Coconut Oil)
Instructions
Chop pathode to small chunks or cubes.

Heat oil in a skillet/wok. Add mustard seeds ,urad dal and chana dal and let them splutter.Once they splutter add dry red chillies and curry leaves.

Add chopped pathrode pieces,jagerry and fry for about 2-3 mins and simmer for 2- 3mins. Toss once in a while to prevent it from sticking to the bottom.

Finally add some grated coconut and serve hot as such / as a side dish with a bowl of steaming rice.
Notes
You can also add finely chopped onion / hing for seasoning.
In case you have limited pathrode rolls and you have to serve many peoples, then this way of serving is best suitable. You can easily serve min 4 peoples with 1 roll.