Ragi Rotti Karnataka style | Ragi roti Recipe | Nachni Roti | Fingermillet Roti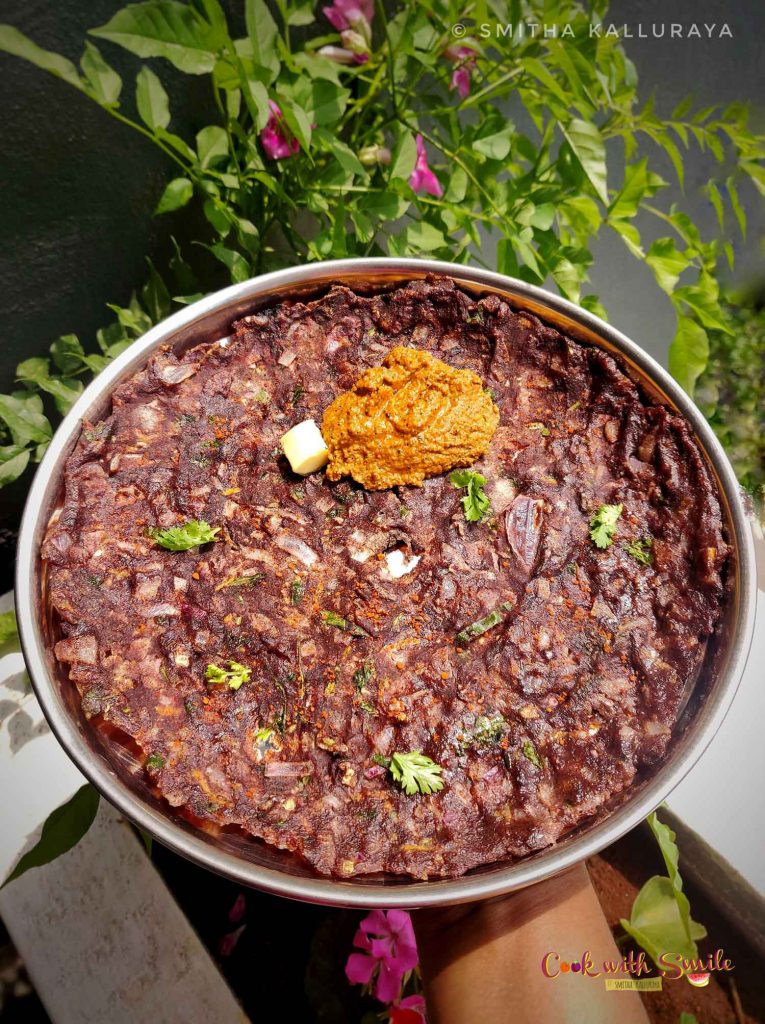 For today ,i have some delicious,healthy and very addictive " Ragi Rotti " for all of you.It's simple,gluten free and power packed with nutrition.Hot hot Ragi rottis with fresh butter just tastes yummm… ( but my personal favorite is with yoghurt ). Though color of ragi rotti is not very appealing to the eyes, after the first piece,it would surely appeal to your tongues… 🙂
Rotti( stress the double tt ) is basically a pancake / flat bread made from rice flour ( Akki Rotti ) / ragi flour /jowar flour / mixed flour and spiced up using green chillies ,onions etc. Today the chosen one is ragi rotti. Ragi rottis are probably unique to Karnataka and are one of the all time favorites for Kannadigas.
In earlier times, when the breach between the rich and poor class was wide,consumption of jowar and ragi on a regular basis was streamlined only to latter class as they were cheap and considered low status.Even now Ragi in the form of Ragi Mudde are staple food for the hard working farmers.
It keeps you full and energized for a long time.But now the trend has changed. People have realised the health benefits of Ragi and welcomed happily to their kitchens.
Some of the ragi recipes shared in the blog that you can try Ragi Dosa , Instant Ragi Dosa , Ragi sevai ….
One can enjoy Ragi Rotti any time of the day , but i usually make it for breakfast or dinner.
Few points to note while making Ragi Rotti :
Try these variations of Ragi rotti : To the dough you can also add grated carrots/ finely chopped capsicums / finely chopped dill leaves / cooked tender hyacinth beans ( avarekalu ) / corn / handful of crushed roasted groundnuts /anything that you love or according to the availability . Addition of any veggie would add to the nutrition value and taste.Mix and match to suit your taste buds.
According to me addition of coconut for ragi rotti is recommended else it will become little chewy and hard.
Use luke warm water to mix the flour to make the dough. This will help in making little softer rotti .
Many people have different technique to spread the rotti dough: Method 1 : Few pat them on plastic sheet / aluminum foils / parchment paper /banana leaf / wet cloth .But what ever sheet you are using, do not forget to grease them before patting each rotti.
Method 2 : Or you can also use 2- 3 tawas to make these rottis. Grease the cold tawa and take lemon sized dough and pat it evenly on the cold griddle to a thin pancake.Switch on flame and cook on medium flame.Do not attempt to pat the dough on hot tawa as the dough doesn't spread well.
Once the rotti on one tawa is cooked take it off from flame, remove the rotti. To reduce the temperature of tawa faster, keep the backside of the pan under running water for 1-2 mins.After about 2-3 mins, tawa is ready and you can use.
Also dip your hands in water in between rotti patting, which helps you to pat them evenly and thin .
Here's the recipe for traditional healthy hearty Ragi rotti ..Don't miss out the notes section at the end of the post…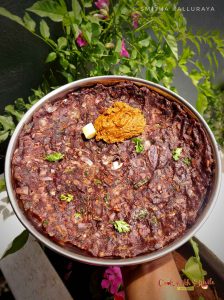 RAGI ROTTI
Healthy , tasty gluten free flat bread made from ragi flour or finger millet .
Ingredients
2

cup

Ragi Flour/ Finger millet flour

2

medium

onion

,

chopped

4 – 5

Green Chillies

few

Curry Leaves

,

finely chopped

few

Coriander leaves

,

finely chopped

1

Tsp

Jeera

1/2

cup

coconut

,

grated

Salt to taste

Oil

,

to roast
Instructions
Add onion, coconut,green chilli, coriander, Curry leaves,salt, cumin seeds in a wide mixing bowl.

Mix it nicely by crushing onions with your hands for few minutes. This brings out more flavors from them.

Add ragi flour to it.Start adding warm water little by little and mix it nicely to form a dough.

The dough should be such that its easy to spread. It should not be too hard ,smooth-firm dough.

Spread a plastic sheet / aluminum foils / parchment paper /banana leaf on your kitchen slab.Grease it with a drop of oil.Take a orange sized dough and pat it evenly with your hands to a thin pancake.Wet your hands in between with water to ease the patting.Make 1-3 holes on the rotti so that they get cooked uniformly.

Heat the griddle.When its hot ,put the sheet on the griddle ( rotti side facing the griddle ). Cook the rotti along with the sheet for 30 sec and then slowly remove the foil.Rotti gets transferred from sheet to the griddle.

Cook on medium heat.Pour some oil in the holes and all over the rotti.Cover and cook till it becomes slightly brown in colour.

Then flip the rotti and continue cooking for about a minute or so till the rotti becomes crispy.

Repeat the same with the remaining dough. Serve the rottis hot.

Ragi rotti is ready to be served. Serve it coconut chutney / chutney powder + yoghurt / chutney powder + butter / Uchellu chutney /any chutney
Note : This post was republished on 24 th April 2021.