Halasinakayi Palya Recipe with step by step photos | How to do Halasinakayi palya | How to do Raw Jackfruit Stir Fry | Raw Jackfruit stir fry Recipe 
Jackfruit is a seasonal fruit available from March to May. Few days back i had visited my aunt's place who has many jackfruit trees in her backyard .She is also an expert in making "n" number of dishes from it; right from very tender raw jackfruit to the matured golden ones. It has a great texture , flavor and is a very good dietary fiber source for vegetarians .
We can make various delicious dishes out of it like sambar, curry, palya, biryani, kabab etc.
But the most boring and time consuming part in jackfruit is its cleaning and cutting. Once that's taken care of, Making any dish is just a step away.Do follow this video and give a try. Cutting at home is actually not that difficult afterall the end result is worth all the trouble ????
During our stay i nicely feasted on many yummies ( ha ha.. no points for guessing it ) and also was happy to carry a raw tender jackfruit back to Bangalore. Half of the fruit went for jackfruit sambar , which i shared in the last post and the remaining half went to …… " Tender Jackfruit Stir Fry " or " Gujje Palya " as we call it locally.
We relished this authentic Udupi style stir fry made from the freshest veggie.
In the authentic style, no onion or garlic is used in this recipe and i've stuck to it. Its very simple to make and yummy in taste. Make it spicy and savor it as a side dish with rice / roti or mildly spice and enjoy it as a snack. Which ever way , you are surely going to love it .True , cleaning process is a bit messy and time consuming but then end result deserves it. A slight mustard flavor and  aroma of coconut oil indeed takes this simple stir fry to a new level . Try for sure to know what i mean.. Here goes the recipe…
You can check out How to do Halasinakayi Palya Video here :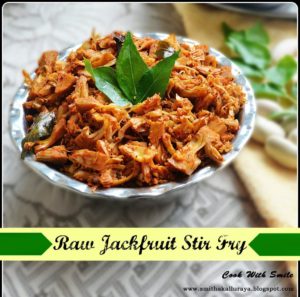 RAW JACKFRUIT STIR FRY
Ingredients
Half

Medium sized

tender raw jackfruit

1/2

tsp

Turmeric
To Grind ( masala)
1/2

tsp

Mustard seeds

3 - 4

Red Chilli

Grape size

Tamarind

lemon size

Jaggery

Salt

1/2 - 1

cup

coconut
To Temper
2 - 4

tsp

Oil / coconut oil

1/2

tsp

Mustard seeds

1

tsp

Split Black gram / Urad dal

1

Red Chilly

,

broken

few

Curry Leaves

a

big pinch

Hing / Asafoetida
Instructions
When we cut Jack fruit , a thick "milk" oozes from it. This is sticky in nature and stains. So without forgetting ,before cutting rub generous amount of coconut oil to your hand and grease the cutting knife too.

Cut the raw jack fruit into half and later into medium size long pieces.Remove outer thorny green skin and the center stalk part.

Cut the clean jackfruit into pieces and put them into water immediately,else they will dis color. Leave it in water for 5 mins. You can observe that the water would be little brownish now. Discard that water.

Drain and pressure cook raw jackfruit pieces for 1-2 whistles. They should be cooked well but not mushy .. should hold shape.

Once the pressure releases let the jackfruit pieces cool a bit.

Shred the big pieces.

to shred , you can either use a stone and gently crush

or using a fork or hand.. do.

take care not to make a paste. you have to do gently

Meanwhile,dry grind mustard ,red chilli , tamarind, jaggery and salt .Once it powders,add coconut and pulse once. Dont grind coconut into smooth paste.

Keep oil in a pan or kadai.When its hot,add mustard and urad dal.Once they splutter,add red chilli and curry leaves.Add hing.

Add shredded raw jackfruit and add masala. Combine everything nicely such that masala is well coated.

Add little water cover and cook 4-5 mins so that raw jackfruit takes in flavor.

Dry out if any moisture.When the raw jack fruit has cooked and water has evaporated fully,switch off

Enjoy halasinakyi palya with rice or roti.