Today i have one crispy crunchy tea time snack …. that's super easy to make , can store for few days and one of the hot favorite festive snacks. I am speaking about the yummy tapes popularly known as " Ribbon Pakoda / Ribbon Murukku " . In the neighboring states i have heard its also called as Ola Pakoda, Ottu Pakoda, Oatu Pakoda, Nada Thenkuzhal, Ribbon Karalu.. hmm .. so many names for 1 snack shows how popular it is. i have been eating this popular south Indian snack right from childhood but still i love it. The only thing that pulls me back now is that its deep fried…But then though its deep fried.. it does not absorb a lot of oil and of course, much healthier compared to store bought ones where you never know how many times the oil has been reused..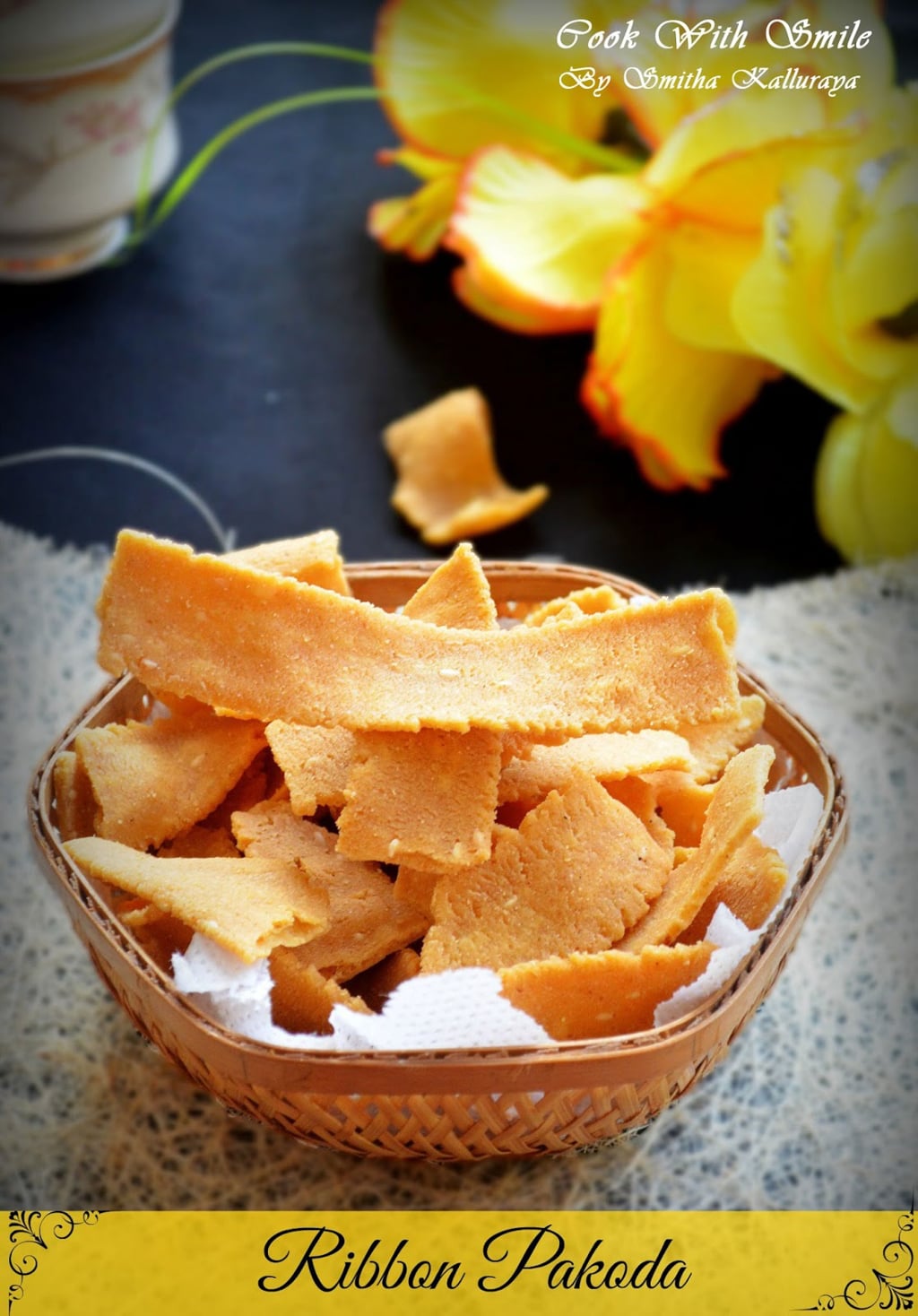 Like most of the recipes even there are variety and variations in ribbon pakoda recipe .. the recipe i am sharing today is my mom's version .I normally add little chilly powder to spicen it up , if you want you can skip it or add pepper or add flavoring of your choice. Do try these crispy Ribbon Pakodas and forget buying from store .. here you go …an absolute beginners delight..
RIBBON PAKODA RECIPE
Ingredients
1

cup

Rice flour

3/4

cup

Gram Flour /Besan/ / Kadle Hittu

1

tsp

Cumin Jeera

1

tsp

White sesame / White til

a big pinch

Asafoetida/ hing

1

tsp

Red chilli powder

2

tbsp

Hot oil

,

to add to dough

Oil to deep fry

to taste

Salt
Instructions
In a wide bowl,take rice flour,besan,hing,chilli powder,salt ,jeera & til .Mix well

Heat oil in a small kadai .Add to the flour. The oil should be so hot that when you pour it on dry flour ,bubbles should form. Mix well.

Add water little by little and make a smooth,non-sticky dough.

In the chakli press use ribbon pakoda moulds .Grease the press and the mould with little oil .

Heat oil in a kadai for deep frying .

Take the ribbon pakoda mould and keep a ball of dough in the press.

Press it directly into hot oil in a circular motion. The consistency of the dough should be free flowing .Let the flame be on medium - low. Cook it one side and flip . Cook it both sides uniformly till it becomes crispy and " shh... " sound stops. Drain on a tissue .

Once it reaches room tempertature store in air tight container and enjoy crispy ribbon pakoda with a cup of tea . Has a good shelf life of 2-3 weeks.
Notes
How to determine the right temperature to deep fry in oil ? When the oil becomes hot,drop a small ball of dough.If it rises immediately,temperature is pefect .
Do not add more water to the dough . It will absorb more oil also will be difficult to form tapes.But then the dough shouldn't be tough too . It will be tough to press. The consistency of the dough should be smooth and free flowing.
If the ribbon pakoda turns very hard to bite,it means the amount of hot oil you added to the dough is not enough. Add 1 tbsp more and make the next batch. If it turns soft and getting scattered in oil that means hot oil added is more. Increase flour quantity .
You can use soft butter too instead of hot oil.
Don't overcrowd while deep frying .