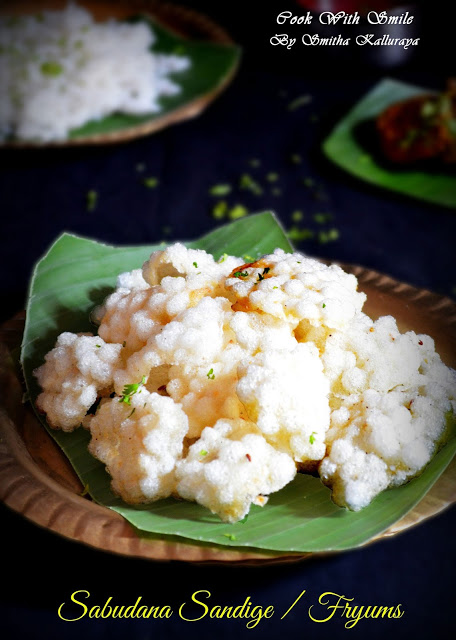 Come summer, my Mom gets busier making different types of sandige / vadam in large quantities and gives me n other relatives for the whole years use. She loves doing them in home though now we get all ready made in shops. We used to have large tin boxes filled with sun dried products that would last us for months together!I Growing up , I still remember spreading  these crispies batter on polythene sheets in large quantities sitting under hot Sun. We didn't have any summer camps back then and this used to be our favorite pass time of the season . Though the whole process in labour intensive , somehow we still loved it as these are the time whole family would come together . My mom would do the batter , My dad ,brother n I would spread it …chatting about something or the other through out . And the next 2-3 days were like waiting for exam results . ☺ Lol !! the excitement we kids used to have when the first batch of sandige would be fried . Few memories indeed make you feel nostalgic….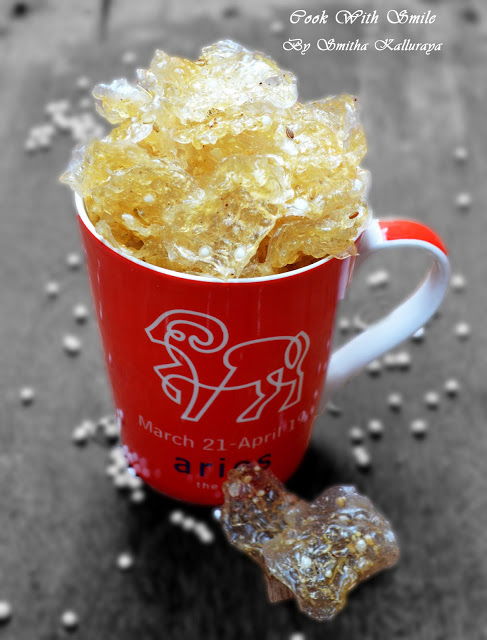 Today's post is sitting in my draft since 1 year as i couldn't post it last year .Last summer when I had visited Mom's place , we had done together Sabudana sandige, Urad sandige, Ragi sandige, Aralu (Popped Rice ) Sandige ,poha Sandige,urad pappad,potato wafers ,peni and many more.But by the time i returned from vacation , Summer had almost ended . These dishes had to literally wait 1 year to make an appearance in Cook With Smile . I am happy that finally I could post these traditional age old recipes here . I am sure our next generstion wouldnt be knowing atleast half of our traditional recipes.This is my attempt to capture all such recipes at one place before they are lost . If not making , atleast our next gen can see that once upon a time our ancestors used to make these sandiges at home just like we see grinding stone now .To begin the series i am starting with one of the commonest in most households " Sabakki Sandige / Sago Fryums / Sago Papad / Javvarisi Vadam " .Though for a beginner it might seem lengthy .. but nothing can beat the taste of homemade fryums.Spending few hours on these summer spl can benefit you a year and create a lifetime memories for your family . Do give a try this summer .. n YES !! FOR EVERYTHING THERE IS A FIRST TIME !!! Here you go…
SABAKKI SANDIGE / SABUDANA FRYUMS
Ingredients
1

cup

Sabudana/ Sago/Sabakki

4

cups

Water

,

for cooking

4 - 5

Green Chillies

,

- depending on preferred spiciness

1

tsp

Jeera / Cumin seeds

1

tsp

White Sesame seeds / til

to taste

Salt

Large plastic sheets

Any oil for sheets
Instructions
Soak sabudana in enough water for 4-5 hours or overnight .When soaking, make sure water level is well above the sago.Next day drain water .

Meanwhile grind the salt and green chilli together into a fine paste.

Add the paste to the soaked sago . Mix well.

Keep 4 cups of water to boil in a thick bottom vessel like pressure cooker .Wen water starts to boil , add soaked sago to the water and mix well . .Keep stirring to avoid sago sticking to the bottom of the pan.

Once the sago mixture comes to a porridge consistency ( might take 10 minutes ) ,Switch off and let it cool just a bit.Make sure it is not too thick as it thickens after cooling down.observe that the sago pearls looks transparent now.

Add jeera and sesame seeds to the batter and mix well .

Spread a clean plastic sheet under sun.Lightly grease it with any oil and place stones in the corner.And now start spooning the mixture when its still hot.Using a small ladle/spoon, pour the sago mixture on the sheet to make small circles as shown below.Let these fryums get dried under bright Sun for 1-2 days  .After 1 day , sabakki sandige starts peeling off and looks transparent .Turn over to other side and dry for another 2-3 days.

Once the fryums are fully dried , store them in an airtight container .Stays good for a year if sundried well .

Deep fry in oil whenever required . A great life saver when you have unexpected guests . Tastes great with dal chawal / rasam rice or even with a cup of tea .Whichever way .. u r sure gonna ENJOY !!!
Notes
Use medium size sago . Dont use nylon sago variety.
When you are mixing sabudana on stove to make batter, stir continuously else it will burn from bottom .
If you want you can add 1/2 cup buttermilk or lemon juice for some tanginess to the cooked batter and mix well.
Don't make the batter too thick as it thickens a bot once it cools . If it gets too thick , dont panic. Just add little hot water and mix vigorously to get desired consistency .
Salt should be added carefully. When you taste the batter, it should be mild, after sandige dries it will just right.
Keep the size of sandige little small only . Wen deep fried , they will expand .
Options in flavoring : You can do a big batch of plain salted version of batter and divide into 2-3 parts. And for each portion , can change the flavoring . That way with the basic batter , you can have different tasting sandiges.
If you want just plain white sabakki sandige , skip chilli paste . You will get plain salted version . Kids love it .
U can add finely chopped / ground 2 small onions along with chillis.
Or while grinding chilli, you can add some coriander and pudina leaves. It will give some green colour to sandige
instead of green chilli , you can grind red chilli and tomatoes to get tomato flavour sandige .
Thanks for reading the post....plz drop ur valuable comments.. it really motivates me...Also If you liked this post, I would really love it if you could share it ...Thank you !!
Love ~Smitha
.