So continuing with my summer special recipes , today i am here with one of the most popular condiment of South Indian cuisine – " Sun dried Curd Chllies / Dahi Mirchi " . In kannada its known as " Sandige Menasu / Uppu menasinakai / Balakada menasu " , In Tamil " Mor Milagai " , In telugu " Majjiga ( Challa ) Mirapakaya " . Hmm .. different names in different languages.. basically it is nothing but green chillies soaked in curd , salt and sun dried till crispy. A hot favorite for many in lunch including me . My mom usually makes a huge batch of these sandige menasu and parcels to me every year .One of the must for us in kitchen pantry . I like to eat as side along with some mild curry like majjige huli , dal curd rice etc and also use it for tempering to many dishes as it gives a very nice flavour . I know these are readily available in most stores but nothing can beat the home made stuff..and also they are simple to make as compared to papads & the likes of it . Any one can easily make it if you have some space to dry .So friends try your hands making them this year …When the sun is at its peak and relish them in monsoon when you crave something hot and spicy.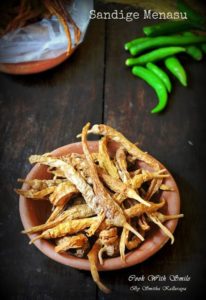 CURD CHILLIES / SANDIGE MENASU
Ingredients
1/2

kg

Chilli

3

cups

sour curd /buttermilk

,

( or just enough to fully immerse all the chillies)

1

tsp

Hing /Asafoetida

3/4

tsp

roasted Fenugreek powder / methi powder

,

( optional )

Salt

,

- as needed
Instructions
Wash and pat dry green chilli .

Now slit the green chillies as shown in pic . Don't remove the seeds. If you want you can retain the entire stalk or slightly cut it .

Take curd in a wide big bowl . Curd / buttermilk shouldnt be too thick or thin. If its too thick dilute it by adding some water. Add salt, hing, fenugreek seeds powder and mix well.

Drop the slited chilli inside the curd mix . Mix well such that curd coats the chilli . Allow the chilli to marinate overnight .

Then next day morning remove the marinated chillies from curd and spread it in a polythene sheet .Keep it under sun the whole day.Keep the left over curd mix inside fridge .

Evening again transfer the partially dried chillies into the left over curd mix .Mix and marinate overnight . ( Don't keep in fridge )

Next day again sundry .Evening again transfer to the curd mix . Continue this process for 3-4 days, all the buttermilk will be absorbed by then. After 3-4 days , you can start just sundrying the chillies till they are fully dry . It may take another 3-4 days depending on the Sun .

Then store in a airtight container and fry when you need it.

Heat oil in a tadka pan, once oil is hot add few chillies and fry till dark brown.

Serve with Curd rice / Majjige huli / Dal or can also use it for tempering in tambli etc .
Notes
Use sour curd / buttermilk only . This helps in reducing the spiciness of chilli .
Thickness of curd / buttermilk should neither be too thick or thin .
Use chillies that are either stout and round / long and thin. i mean less spicy ones
Slitting chilli and later marinating it helps in easy absorption of salt and curd .
It is a must to soak chillies in curd for atleast 3-4 days so that curd and salt gets inside and spiciness of chillies reduce .
After sun drying for 1 day n later marinating again , chillies will become soft . Don't worry.