Tindora chutney | Over ripe Tindora Chutney Recipe | How to do Tindora Chutney | How to do Thondekayi Chutney | Kovakkai Chutney Recipe | Dondakaya Chutney
Last week I had few leftover Ivy gourd after making stir fry. Just when I was thinking about how to finish them off, I saw that most of them had got over-ripened 🙁 … Now that veggies are so expensive. we can't throw them also. It was then, I remembered that one of my aunt used to do this Tindora Chutney.  After the successful trials in my kitchen and getting thumbs up from my family, I present to you today " Tindora Chutney " or " Thondekayi chutney " as called in Kannada. It's also known as Kovakkai Chutney ( Tamil ) and Dondakaya Chutney ( Telugu ).
Tindora .. also known as Ivy gourd / Thondekayi is a very common and tasty veggie grown abundantly in Malnad and south Karnataka. It can be used to make many tasty dishes like stir fry, pickle, majjige huli, stuffed gravy, gojju etc. Usually, for most of the dishes .. tender young Tindora is preferred. They will be light green with firm skin. However, tindora gets ripened soon if not used quickly and also most of the times we get to know only after chopping . from out they look green only. Most of them don't use ripe red ones as they give a tart taste to the curry. And hence throw.
But hey wait … do try this lip-smacking Tindora chutney out of them. If you too are wondering like me how it might taste .. I recommend …MUST try !! Taste's amazing with rice and ghee. It's very unique. Takes in just a few ingredients, very easy and very tasty too.  If we peep into traditional grandmas kitchen, we are sure to find numerous ways in which they used up each and everything in the cooking .. nothing would be wasted.  So next time you have overripe tindora … you know what to do :)… Here you go …
For more chutneys with vegetables, you can check Beetroot chutney, Brinjal Chutney, Cluster Beans Chutney, Pumpkin Chutney etc …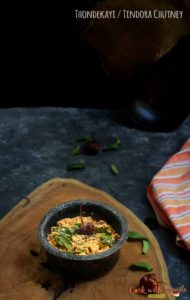 TINDORA CHUTNEY / THONDEKAYI CHUTNEY / KOVAKKAI CHUTNEY / DONDAKAYA CHUTNEY
Ingredients
10-15

nos

Tindora / Thondekayi

4-8

nos

Green Chilly ( as per taste)

2-3

tbsp

Groundnuts (dry roasted)

1

tsp

White sesame / White til

1/4

tsp

Corinader seeds / dhania

1/2

tsp

Cumin Seeds /Jeera

a

big pinch

Hing /Asafoetida

amla ( gooseberry ) size

Tamarind

Salt as per taste

1-2

tbsp

Oil
For tempering:
1-2

tsp

Oil

1

tsp

Mustard seeds

few

Curry Leaves
Instructions
Dry roast peanuts till they are crisp. keep aside to cool.

Wash and slice tindora.

In a small pan, heat oil. Add a little salt and saute tindora for 4-5 mins. Let it get cooked at least 50 %.

When Tindora is cooked 50 % , to the same pan add , sesame seeds , dhania , jeera , hing and green chilli . Continue to saute for another 2-3 mins .

When done .. allow to cool . Grind sauteed veggies along with salt, tamarind and peanuts. Add little water and no need to make super smooth.

Finally, prepare a tempering of mustard and curry leaves and pour on the chutney.

Tindora chutney is ready. Enjoy with Hot rice topped with ghee / Bhakri / Chaptji / Dosa etc ...
Notes
You can make the same chutney with tender tindora too.
If you don't like hing flavour.. instead of it can add garlic/onion while sauteeing.