The best thing about living in Bangalore apart from its greenery is that it has so many good eat outs catering to all classes of people,the rich, the middle class,and the poor.You can seen all kinds of fancy restaurants to simple food joints to mobile food vendors. I've always loved this kind of place and I hope Bangalore remains this way.There is one such fast food,a landmark that is hard to miss in Jayanagar, "Cool Joint" which serves grilled sandwiches,fresh fruit juices and mouth watering desserts at a nominal prices.Those familiar with Bangalore will know exactly what I'm talking about .The yummy huge Veg.Grilled Sandwiches…ohhh makes me drool! 
I tried to recreate those grill sandwiches in my kitchen and voila! i was successful .Now this is something i often make at home.You can play around the filling and make your own special sandwich.Making sandwich does not require much cooking expertise and these are the ones any newbies can make and even the experts love such recipes when they are in hurry.They are so simple and yet so irresistibly good!I am crazy about sandwiches and would gladly have it for any meal.
Here's how i make them.You will need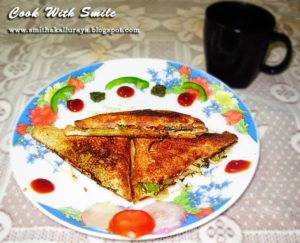 VEG GRILLED SANDWICH
Ingredients
bread

,

Slices

Green Chutney

Butter

,

(optional )

Masala

,

Chat

Salt

potato

,

Slice

onion

,

Slice

cucumber

,

Slice

tomato

,

Slice

capsicum

,

Slice

cabbage

,

Shredded
Instructions
Apply butter on a slice of bread .You can avoid this if you want.

Now apply the mint coriander chutney on it

Arrange a few slices of potato,onion,cucumber,tomato and capsicum.

Sprinkle salt and chaat masala over it.

Top it with finely chopped cabbage.Again sprinkle salt and chaat masala over it

Cover the vegetable chopped slice of bread with another slice of bread and press it lightly.

Now place the sandwich in a lightly greased grill pan / toaster grill / normal tawa .Butter it .This will give a nice golden color and flavor to your sandwich.

Cook till the sandwich turns brown n crisp on both sides.

Remove,cut into triangles and serve hot with tomato ketchup .

Enjoyy the veg grilled sandwich with a hot cup of tea..
Notes
I am giving you the ingredients without the quantity.You can use according to your preference. There is no hard rule for the measurements in this recipe.You just tweak ingredients of your choice

.
You can replace white bread with brown bread to make it more healthy.
Except the butter,this sandwich is healthy. Of course,you can omit butter.
No specific veggie for this, you can skip any one or two, alter any 1 or 2 , still it tastes great!
You can place cheese slices /gratings between the sandwiches to make a cheesy veggie grill sandwich Rest of the steps remains same.
Instead of Chaat masala you can use sandwich masala . I didn't have them handy .You'l get them ready at shops.
Don't over preheat the tawa/toaster grill / grill pan.