Southekayi beejada Saaru with step by step phots | How to do Mangalore southekayi beejada saaru | Sambar Cucumber Seeds Rasam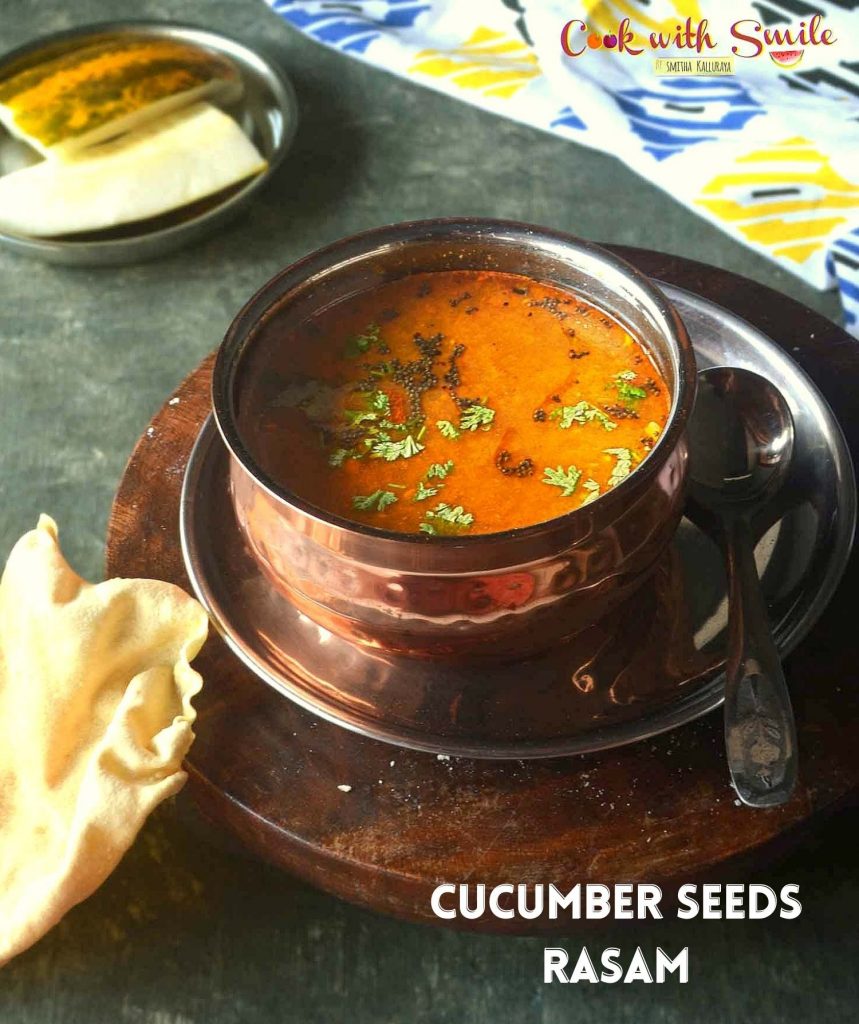 Southe Kayi beejada Saaru aka Yellow cucumber seeds ( Mangalore / Sambar Cucumber ) Rasam… made using Sambar Cucumber seeds and pulp which normally is thrown waste . They are nutritious , mild and flavorful .Enjoy it as an appetizer or relish it with hot rice.. Tastes really so good.
Some of the other best out of waste dishes that you can check Ridge gourd peel Chutney , Water melon rind Majjige HUli . Chayote squash chutney etc
Did you know Sambar Cucumber seeds can be used to make dishes ??
Mangalore southekayi or Sambar cucumber is a widely used veggie in the coastal regions of Karnataka. We usually make Sambar , Majjige huli , Ghasi , Palya etc using it .
After using the flesh or veggie region in making these dishes , and throw the seeds and pulp from the centre region.
But hey ,did you know the flesh and seeds part of this veggie which we usually throw , are rich in minerals and have good in nutrition. And as per Ayurveda they have cooling nature ( thampu ) and hence very good for summer. We can make thambuli , saaru , juice , chutney using these.
Our ancestors were very clever. we peep into the traditional grandma's kitchen, we are sure to find numerous ways in which they incorporated the peels, seeds and kernels .. they would hardly throw anything and make sure all the nutrients from each veggie is utilized fully. There are so many things to learn from our ancestors, isn't it.

Few points to note while making this rasam :
Ensure the seeds are tender and pulp fresh .
MOST IMPORTANT POINT : PLEASE TASTE THE SEEDS AND PULP A LITTLE BEFORE MAKING THE DISH . SOMETIMES, FEW VARIETIES ARE BITTER . HENCE , BEFORE MAKING THE DISH PLEASE ENSURE THEY ARE NOT BITTER AND THEN ONLY PROCEED .
Adjust the spice levels as per your preference .
If you don't have access to Sambar cucumber , you can use over grown regular cucumber .
Southekayi Beejada Saaru / Cucumber Seeds Rasam
Southekayi beejada saaru or sambar cucumber seeds rasam – is a tasty and age old dish from coastal karnataka made using cucumber seeds which is usually thrown as waste
Ingredients
1

cup

Yellow Cucumber Seeds Pulp + Seeds

,

( Fleshy seeded part – of one coloured cucumber)

3-4

tbsp

Coconut

1-2

nos

Green Chilli

,

slit

2-3

tsp

Rasam Powder

amla size

Tamarind

,

soaked in water

1-2

tsp

Jaggery

few

Curry leaves

few

sprigs

Coriander leaves

,

chopped

Salt to taste
To Temper
2-3

tsp

Ghee

1

tsp

Mustard seeds

1/2

tsp

Jeera seeds / Cumin seeds

a pinch

Hing / Asafoetida
Instructions
Take a nice and firm Mangalore Cucumber .

Cut n scoop out pulp part of Cucumber . You can use a knife or spoon to scoop .

the actual veggie , use for making some other dish like sambar.

Take the cucumber pulp into a vessel . Add water n Cook for 4-5 mins .

Once the pulp and seeds are cooked , let they cool a bit .

Grinding them in the mixie , while it is hot , might lead to splashing of liquid .

Once cool , transfer the pulp to mixie. Grind smooth adding little water.

Take a bowl and using a siever , sieve the ground paste nicely . Add water and squeeze out as much pulp as you can from the puree.

Collect the liquid in the vessle and discard the roughage that's left as residue in the sieve.

Now , To a mixer , add coconut ,Rasam powder, tamarind and salt to taste. Add some water if required to grind .

Add ground masala to the sieved cucumber flesh extract.

Add slit green chilli , jaggery and water as required. Mix well.

Keep the rasam to boil . Add few curry leaves and chopped coriander leaves.Boil well.

Prepare tempering in ghee. Heat ghee . Add mustard and jeera seeds . let they splutter.

Once they splutter , pour the tempering to rasam .

That's it cucumber seeds rasam is ready. Enjoy it with hot rice along with some papad on side