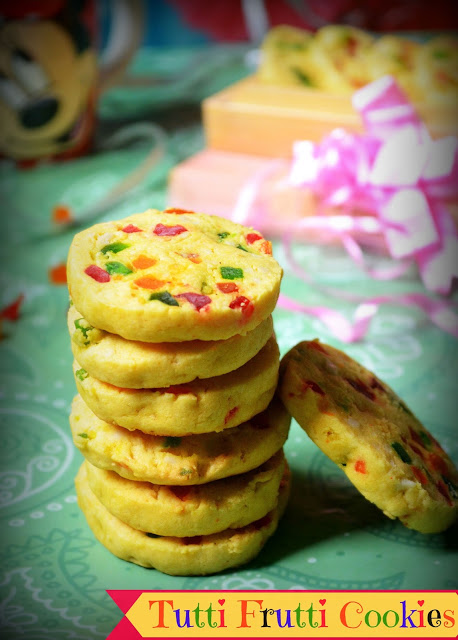 Today i am sharing with you all a very delicious and a very popular cookie – " Tutti Frutti  Cookies / Fruit Cookies " . These cookies are also known as " Karachi Biscuits " . These are so colorful that kids will surely get attracted to it. I am sure not only kids , but many of us too are fond of this famous Hyderabad cookies . The flavor and taste of them is just Wow !! I saw this recipe here and knew I had to try it out soon. Bang On !!  These colourful and beautiful cookies were so easy to make at home . My kids just loved it . You too give a try …. i am confident your kids too will love them !! So lets get started :
EGGLESS TUTTI FRUTTI COOKIES
Colorful , eggfree Tutti frutti Cookies / Karachi biscuits
Ingredients
1.5

cups

All purpose flour/ maida

1/2

cup

custard powder

,

( Vanilla / Any flavour )

1

cup

Powdered sugar / castor sugar

1/2

cup

Butter

,

at room temperature

1/2

cup

tutti frutti

1/4

cup

Cashews

,

chopped

1

tsp

Baking powder

1

tsp

Rose/ Pineapple essence

,

( I prefer rose essence )

3 - 5

Tbsps

Milk
Instructions
In a bowl take butter and sugar powder . Whisk well until its creamy and fluffy .

Now add 3 tbsp milk and rose essence and mix well .

In another bowl , sieve maida , custard powder and baking powder .

To the sieved mix , add tutti frutti and chopped cashews. Mix well .

Now add this maida mix to the beaten butter mix. Add dry ingredient to the wet ingredient in 2- 3 batches and with a help of  whisk/ spatula / hand make a dough .No need to knead the dough much you just have to make a dough .if the dough is crumbly , add 1 more tbsp milk .the dough has to be non sticky.

Divide the dough into 2 parts and roll the dough to cylindrical log shape and wrap it in polythene cover / cling film .Refrigerate the covered logs for 2-3 hours / till they become hard .

After 2-3 hours , remove the log  and cut into 1/2 inch thick roundels.Use a sharp  knife else the cookies may break while cutting .

Preheat the oven at 180c for 10 minutes .

Arrange the cookies on the baking tray lined with parchment paper. Leave some space in between .

Place the tray in the middle rack and bake the cookies in 180 c for 15 min / till the edges starts getting golden brown .

Remove the cookies from the tray and let it cool completely.Initially they look soft when hot but after 30-40 mins , they will become crunchy and tasty only after they are cooled completely.

Store the cookies in an air tight container and relish !!! Stays good for atleast 5-6 days ( it gets vanished before that !! )
Notes
As a variation you can add orange juice instead of milk and  orange zest instead of essence.
If you don't have tutti fruttis you may replace it with cashews , nuts , raisins etc .
Keeping the cookie dough in the fridge will harden it. You can cut into desired shape later easily .
Use a sharp knife to get a smooth finish on the cookies.While cutting the cookies,cookies may crumble lightly. Use your fingers and press gently on the cracks. It will be fine.
The baking time may vary a bit . You should bake till the sides of cookie turn golden brown .it may take 15-20 mins depending on your oven.
increase the butter quantity to 3/4th cup if you are ok for more better texture .
Don't add 5 tbsp of milk at once. We dont want our dough to become moist. Add 3 tbsp first and later if required add 1-2 tbsp more.