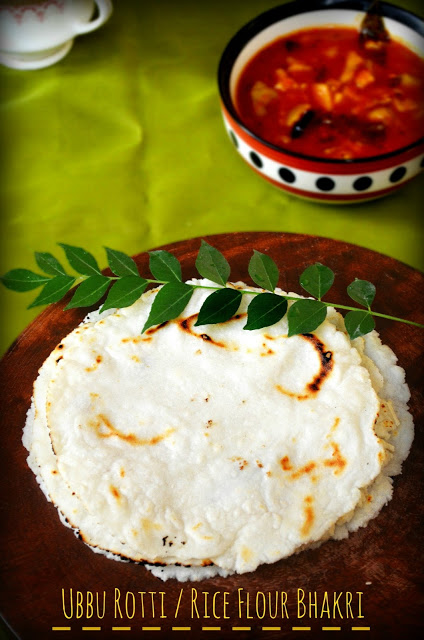 For today i have for you all one healthy dish,Karnataka's most famous "Ubbu Rotti / Coorgi Rotti"or Maharashtra's " Rice Bhakri " .  Hot hot soft soft ubbu rotti / bhakri  served with ennegai palya or any other spicy curry or chutney … tastes just awesome. Do give a try for your weekend breakfast or lunch and the effort is all worth it… Tummy full dil bhi khush.Ubbu Rotti is basically puffed rice flour rotis / bhakris cooked using almost no oil .Since rice flour has no gluten, many find it difficult to pat a thin roti out of it. They tend to break in between.But with little practice and following the right steps, nothing is impossible.It might be little time consuming in the beginning but over the period you can really make good soft rotis.This i am telling based on my experience .
Traditionally in Coorg, the rotti dough is made with a mixture of cooked left over rice that is mashed together with a little rice flour, salt and a few drops of oil . But i follow my mom's way of doing which i like .
Few points to note while making Ubbu Rotti Recipe :
Since Rice is gluten free , flour has to be fresh to make these rotis. With the old stock flour, roti making process might be difficult. This is important .
Rice flour to water is always in the ratio of 1:2.
Dont allow the flour to get too cold while kneading.Knead it when it is manageable hot.Kneading process is very vital.Better you need easier to roll.
Since we are kneading the dough when its hot only , it would be difficult for us to handle the dough bear hands. Thats why we are putting it in polythene cover and knead later .
While rolling,if the edges crack ,smoothen the edges with finger tip and continue rolling to get smooth edges.
Addition of maida helps in smooth edges and easy rolling.
Also, roll-out/press rottis one-by-one and cook them immediately since the dough can dry up very quickly
Be little patient as they take a little longer than a dosa to cook.
Final step of cooking on direct flame is optional . Can omit but it gives nice flavour .
do give a try n i am sure you too would love it. dont forget to pair it up with some nice spicy side dish.. Here you go …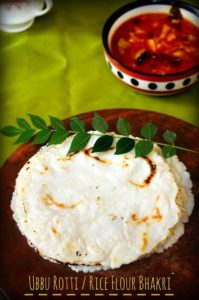 UBBU ROTTI / RICE FLOUR BHAKRI
Ingredients
1

cup

Rice flour

2

tbsps

maida

,

( optional )

1

tbsp

Oil

2

cups

Water

to taste

Salt
Instructions
In a wide kadai / pan / wok , boil the water along with a tbsp oil and salt to taste.

When water starts bubbling, keep on sim & dunk in the rice flour and maida. Do not stir.Leave for 30 seconds.

Later  stir vigorously with a wooden spoon to bring the dough together.

Remove from heat and allow to cool for about 4-5 minutes.When the dough is still warm , transfer it into a clean polythene cover and knead. refer note no 4

Knead it nicely to form a very smooth lumpless dough.Dough for Ubbu rotti is ready
Make Ubbu rotti :
Divide the dough to orange sized balls .

There are two ways in which you can proceed next.

a). Take 1 ball, flatten it a bit and place it in between 2 thick greased plastic sheets and roll gently to form a  thin disc.

b) Alternatively , if you have a roti maker / press , you can keep a ball between the sheets and gently press to get a thin disc .The edges shouldn't have cracks. That shows how well the dough is kneaded .

Once the rotis are ready , transfer them gently on a hot griddle . Let the roti remain so.. for about 40-50 sec till you can observe bubbles.

At this stage,flip it and cook for a min.No need to add oil .You can press edges lightly with a soft dry cloth so that roti inflates.This also ensures equal cooking.

Finaly when the rotis are almost done , flip them and put on direct flame as we do for phulka.Roti puffs up.Quickly flip using tongs and cook other side for few seconds.Remove from flame. Brush it with ghee/butter if you wish.

Serve hot ubbu roti / rice bhakri with stuffed brinjal (ennegayi ) , peanut garlic chutney powder,sprouts subzi ( mudde palya ) or any other spicy curry / chutney .