When i say " SNACK " … what is the first dish that strikes you ? I am damn sure, this if i ask my father, he will surely say something crispy,crunchy ..deep fried munchies. Ha ha…But now things have changed and most of us are cautious.We try to reduce deep fried snacks and instead choose healthy options without compromising on taste. So today i have for you all " Veg Momos / Veg Dimsum " – one of the most famous dish under Steamed / Healthy Snack category . Filled with mixed veggies , these steamed dumplings are an absolute healthy treat for anyone . Hot hot momos with a fiery Chilli Garlic Sauce…..aah Yummmm !!!!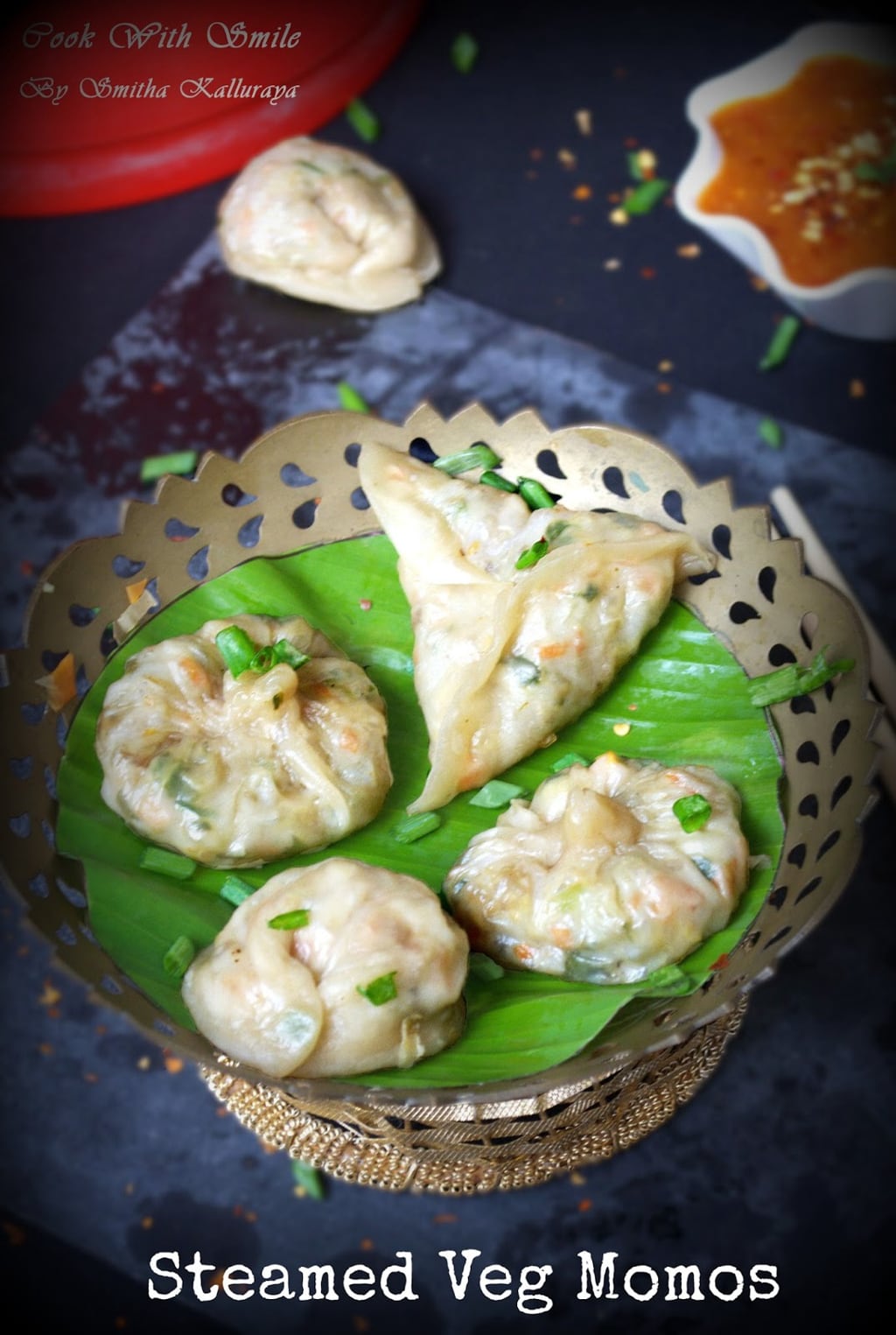 Steaming is one of the healthiest and nutrituous ways of cooking techniques. I love steam cooked dishes as they are low cal, healthy ,tasty and nutient filled .A few days back when one of the most renowned brands " Tupperware " mailed me asking me if i could join hands with them  in spreading awareness about healthy cooking and a healthy food lifestyle through "Tupperware – Steam It " , I happily agreed to do so and be a part of the good cause. Tupper Ware Steamer is an engineered revolutionary product with features for safe & hygienic cooking. It has two steam vents on the cover which uplift the steam away from the handle for safety. The lid is dome shaped to drain the water to its side so food does not become soggy.Since it has 2 compartments , together you can steam differnt food stuff.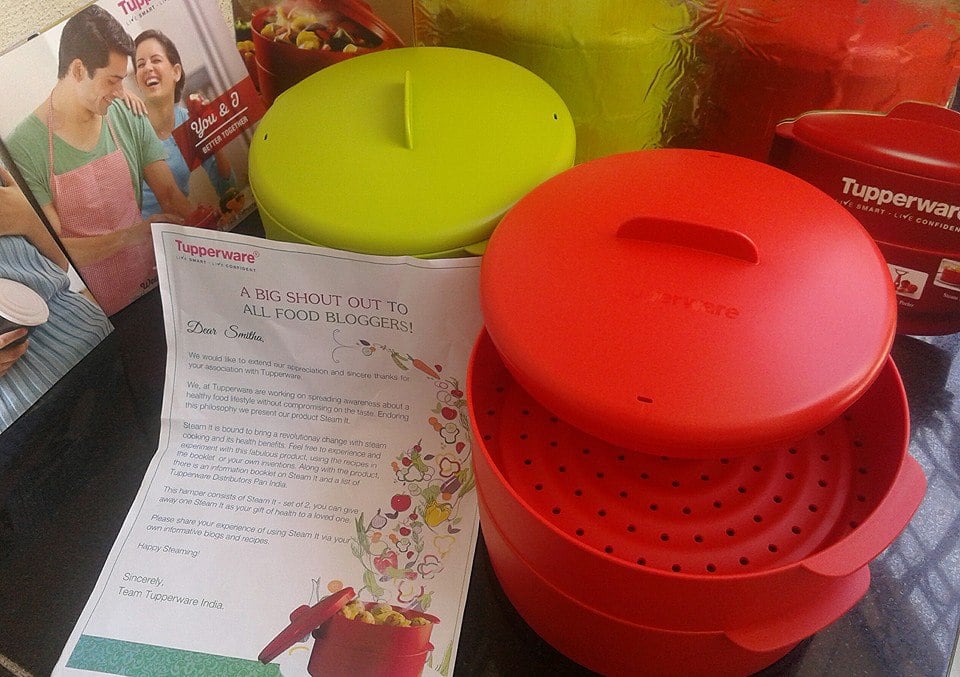 So when i received my hamper , I wanted to make something interesting using it and my head started thinking about various options, finally i decided to make Vegetable Momo's using " Tupperware – Steam It ".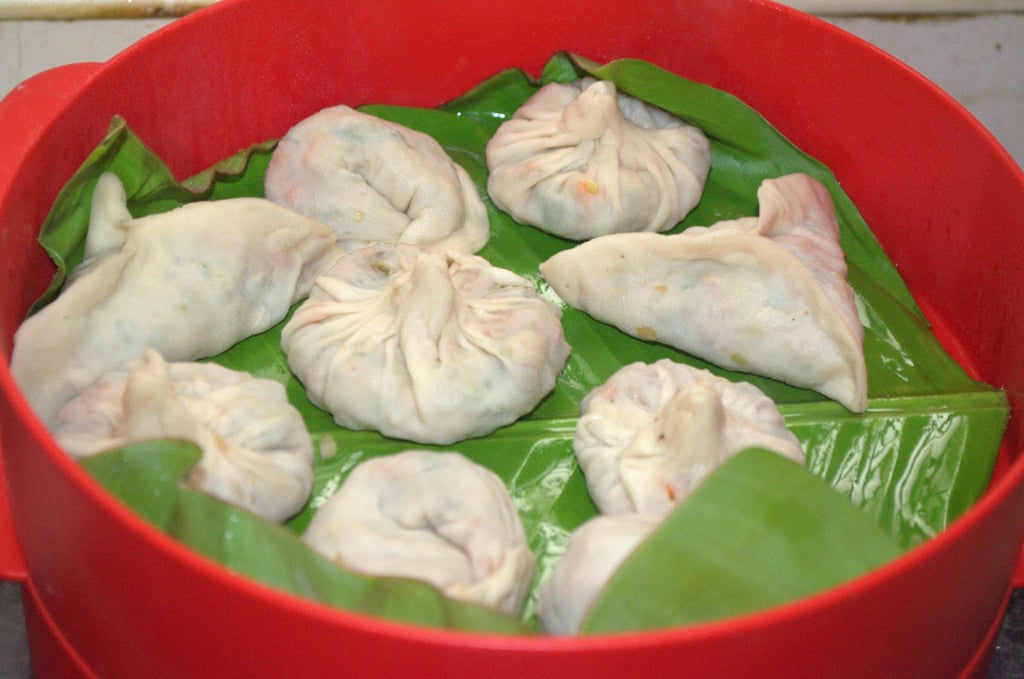 Momo's was something i had learnt even before i started blogging . Taste wise i can proudly say my momo's with spicy dip are no less than any famous restuarant one's . But look wise HeHe… its better not to compare . With 2 kids n other n number of jobs always queued up, i try to wind up the whole momo making session quickly. But yes that doesn't mean there is any compromise in taste and health quotients The main thing to remember is roll the sheets as thin as possible towards the edges , make the filling crunchy and mildly spiced and never overcook it  . I have taken step by step photo's to make things easier for you all .Agree that making momo's is slightly labour intensive procedure but the end result is definitely worth the effort. With practice the shapes can better & better. I happened to stumble upon a video in Youtube and loved it absolutely . If you want you too can have a look here .. loved the way Chef shapes his dumplings …
Without much talk , lets quickly get into making of Steamed Vegetable Momo's ….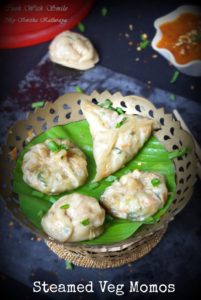 VEGETABLE MOMOS RECIPE
steamed veg momos with step by step recipe
Ingredients
For dough
1

cup

maida

1

tsp

Cooking oil

1

tsp

Salt

as required

Water

,

.
For stuffing :
1

medium

onion

,

super fine chopped

5 - 7

flakes

Garlic

,

super fine chopped

5 - 8

no

Beans

,

, super fine chopped

1

no

carrot

,

,super fine chopped

1

cup

cabbage

,

, finely shredded / chopped

1

capsicum

,

- small ; finely chopped

spring onion

,

( green part ) - little

1

tsp

Black Pepper

1 / 2

tsp

Soya sauce

Salt

,

– As required

1

tbsp

Oil
To steam
1

tsp

little Oil to grease and add to in the steamer.

,
Instructions
To make dough :
Mix Maida with salt,water and a tsp of oil to make a soft pliable dough.Keep it covered for 30 minutes.
To make the Stuffing : 
Chop all the vegetables finely using a knife or food processor .

Take a kadai / pan , add a tbsp of oil . Keep the flame on high . Add onion n garlic . Saute for a min .

Then add beans and carrot . Add salt . Toss for a minute .

Add capsicum and cabbage . Add all the veggies as mentioned in the order . You needent toss /cook it for long as they will get cooked again later . Finally add spring onions.

Add pepper and soya sauce .Toss and switch off . Vegetable Stuffing for momo's are ready .

Take the dough , roll it into long and cut small balls using knife .Keep the balls covered as they dry out soon .

Dust some floor and roll small circle like Poori . Little thick at centre and as thin as possible towards the edges .

Place a tsp stuffing in the centre .There are different way's in which you can shape them . I have showed 3 different ways .Refer the pics but do refer this video too..

Heat water in the steamer . Add a tsp of oil to the boiling water .This will give a good texture to the outer covering .

Arrange the momo's on a greased surface , such that they don't stick to one another . Steam it for 10-12 mins.

That's it our healthy vegetable momo's are ready to serve. Relish them hot with spicy chilli garlic sauce. I know the red chutney with momo is tempting...
Notes
You can tweak and make any filling with your choice of veggies can add baby corn , mushroom etc.
The veggies used for the filling should be super fine chopped and partially cooked .
Outer covering should be thinly rolled and not overcoked. if you overcook it will become hard .
To make it more healthy you can make a dough by using wheat flour and maida in equal proportion or completely omit maida. However wheat flour momos would be little chewy.
Tupperware steam it can be used to steam anything . I use it to steam my sprouts , veggies for salads ,kozhukattai , idli , dhokla etc
KHAMAN DHOKLA
CORN RAVA DHOKLA
MUTHIA
MENTHE KADUBU
RAVA IDLI
DALIA IDLI
Thanks for reading the post....plz drop ur valuable comments.. it really motivates me...Also If you liked this post, I would really love it if you share it in Facebook or Twitter or Google+ circles. All it takes is a simple click on the "like," "share," "tweet," or Google+ buttons below the post.Thank you!