Have some left over not so fresh cucumber ? Bored of eating cucumber in salads ? Then why not try " Cucumber Dosa " ?? Dosa from Cucumber !! Yes friends you heard it right .. its one of the famous Manglorean delicacy. This is such a yummy, easy and healthy dish that i make it often.These dosas need no fermentation . Soak…grind… and head straight to make dosas !! Crispy n thin , they taste awesome ….
In my fridge, cucumbers are always there as they are very healthy and we all love it.When fresh,they are eaten as such or in the form of salads,raitha,sandwich etc.But Once they are old, there are no takers for it. Cucumber idli and cucumber dosa are the best recipes to clear off those old cucumbers. I've already posted cucumber idli , today its time for cucumber dosa.The method of making these dosas is almost similar to neer dosa and tastes great with the mild flavor of cucumber.Also these dosas can be carried in lunchbox as they taste good even when cold.Try it for yourself .. i am sure you will agree with me. Here goes the recipe…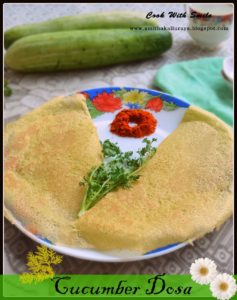 CUCUMBER DOSA
Thin instant crepes made from rice flavored up with cucumber
Ingredients
1

Cup

Dosa rice / Normal rice

1/2 - 3/4

cup

cucumber

2

tbsps

coconut

,

Grated

1-2

Green Chillies

,

Optional- Refer note

Coriander leaves

,

- little

1/2

tsp

Cumin Seeds Jeera

to taste

Salt

Oil

,

(optional)
Instructions
Wash and soak rice for 3-4 hours.

Cut cucumber to big chunks.

Grind cucumber,coconut ,coriander leaves,chilli ,jeera and salt to a paste .

To the paste add soaked rice and grind it by adding little water.

Transfer the batter to a vessel.Add water generously such that the batter attains running consistency ( like milk ).

Heat a non stick saucepan. You can use non stick tawa also, but with saucepan its more easier as you can easily do round shape.

Once its very hot,hold the handle of the pan in left hand and pour dosa batter to the pan using right hand. Quickly rotate and tilt the pan in a circular motion so that the batter spreads thin covering the entire pan. If you want drizzle few drops of oil . I don't.

Lid the pan and cook it on a medium flame. Once its cooked,the edges of the dosa will start leaving the pan.You need not flip this dosa and cook on other sides as they are thin .Using a spatula, slowly fold it to half  and transfer to a serving plate.

Repeat the process with the remaining batter.Remember that while pouring the batter, pan should be very hot.

Serve the dosa with coconut chutney / Chutney powder / honey. Even the plain dosa tastes yum...
Notes
This dosa can be made sweet,spicy or plain version. For the sweet version replace chillies with jaggery and omit cumin and coriander leaves. For the plain version just grind rice,cucumber ,coconut and salt. I normally do plain or spicy version as i dont have a sweet tooth.
You can even keep the batter thick and spread the dosa with the back of the ladle, as how we do ordinary dosas. But I prefer making the batter watery... Dosas turn out thinner.
If you want you can serve soft dosa by removing quickly or make it crisp by cooing it on sim for few more seconds. Either way they taste good.
You can do it in iron tawa too. But its more time consuming and the kitchen becomes messy.
The left over batter if any, you can keep in fridge and do dosa next day.