Which vegetable is called " King of Vegetables " ? How many of you know its Brinjal … I know those of you who hate brinjal are telling yuck.. Brinjal the KING !! ?? People have strong opinions about this veggie .. a love / hate kind of relation.Today i have a dish from Bengali cuisine " Begun Bhaja / Baingan Bhaja ". A perfect dish to convert all brinjal haters to brinjal eaters if not brinjal lovers….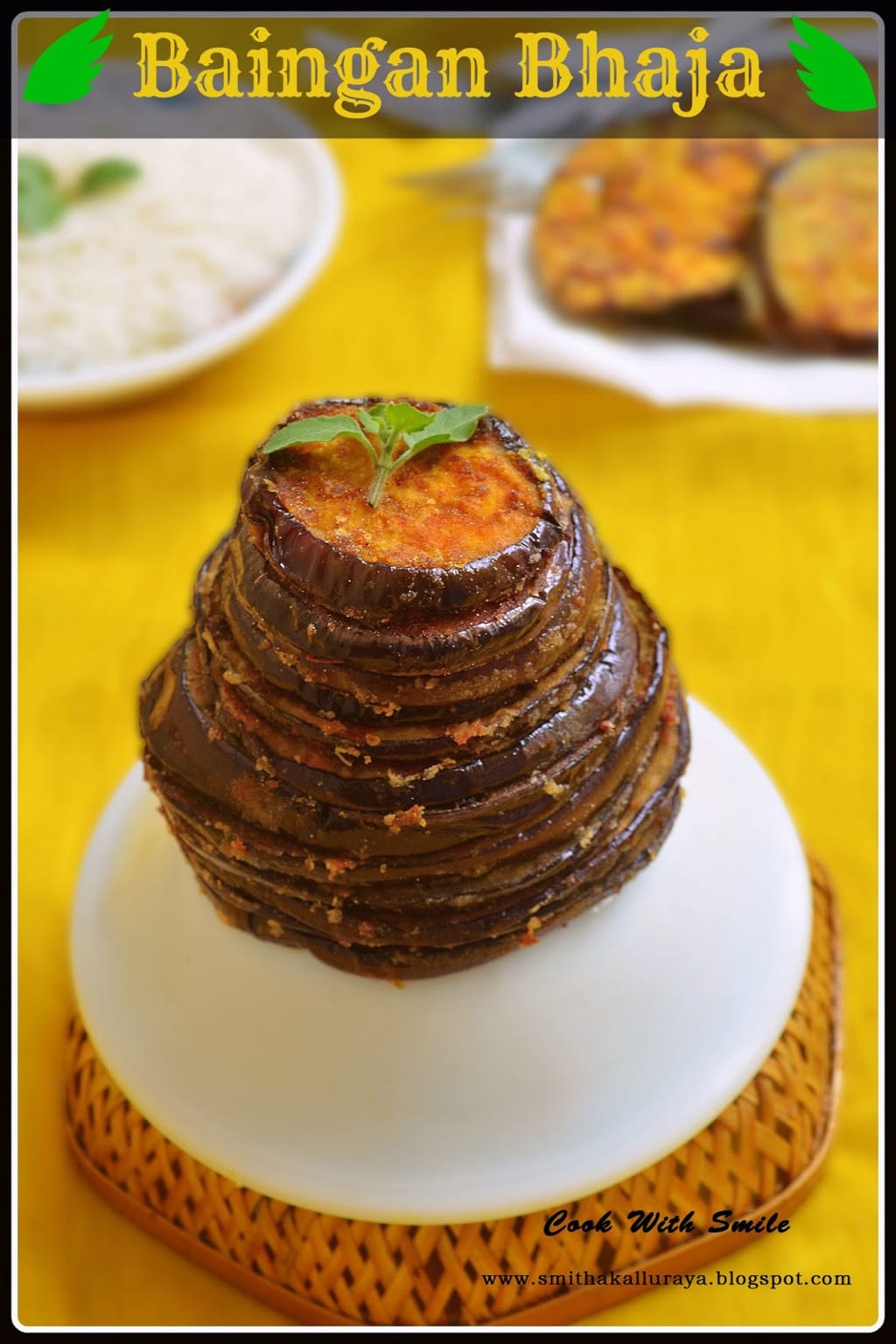 Wondering what beghun bhaja means ? As i said , it is a classic bengali dish in which the brinjal pieces are mixed with all the spices and shallow fried.They are served as a side dish with rice or roti or eaten up as such as snack.Its so easy to make.. you can prepare it within 10-15 minutes and i often prepare it since my daughter loves brinjal. In the authentic version , brinjal slices are shallow fried in mustard oil. But to cut usage of oil , i have just pan roasted brinjal slices with comparatively  less oil. Also dusting the brinjal slices in rice flour, makes the brinjal absorb less oil and gives a nice crispy finish.
Next time you think that Brinjal is an awful vegetable, remember that its the King of Vegetables and does deserve the due respect! Trust me, it does taste exotic :).. Here goes the recipe…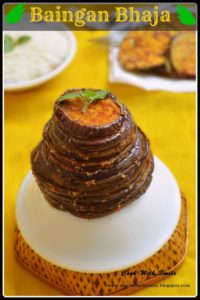 BEGUN BHAJA
A classic bengali dish in which marinated Brinjal are shallow fried
Ingredients
1

large

brinjal

Rice flour

,

as required

oil for roasting
To Marinate
1

tsp

chili powder

1

tsp

dried mango powder / Amchur

1

tsp

Garam Masala powder

,

(optional)

½

tsp

Turmeric Haldi

Salt to taste
Instructions
Wash the brinjal well and pat dry.Cut the top stalk.

Now slice the brinjal in ½ inch thick slices as shown in pic. Don't make it too thick ,that will increase cooking time. nor make it too thin that will make it too crispy.It should be crispy from outside n soft inside.

Soak these slices in salted water for 15-20 minutes. This helps in removing the bitterness from brinjal.

Drain and pat dry all the slices on a kitchen napkin or paper.

Next take all the spices mentioned under " to marinate " in a wide vessel/ plate. Mix spices .

Transfer brinjal slices to it .Mix n toss well such that spice mix gets uniformly coated to each slice. Marinate for about 5-6 mins.

Heat a pan / tawa for roasting.Grease the tawa nicely .

Now take rice powder in a plate. Take each slice and coat it with the rice powder lightly.Dust off the remaining rice powder by gently tapping the slices.

Place the brinjal slices on the tawa and drizzle oil .Cook on medium-low flame till both sides are cooked and crispy. Drizzle some more oil when you flip in between.

Serve Begun Bhaja hot with rice and dal or flatbreads or eat them up as such.Whichever way i am sure you'l love it....
Notes
Don't cut the brinjal slices into very thick slices. That will increase cooking time. Also don't make it too thin. Ideally the end product should be crispy from outside and soft from inside.
Brinjal absorbs oil while cooking. So, it is better to coat the slices with rice flour.It also helps in giving a little crispness.
Actually this dish calls for shallow frying brinjal slices in oil. But we don't prefer much oil. So i have just pan roasted brinjal in comparatively less oil. If you are OK, you can shallow fry. Once they are done, drain the brinjal slices on tissue paper.Else it would be too much oil.
You can just marinate the baingan slices in the masala and then fry it directly too. Using rice flour is optional.