Iyengar Style Puliyogare Gojju Recipe with step by step photos | How to do Karnataka Style Puliyogare Gojju | Puliyodharai Mix recipe | Pulihara mix recipe with step by step photos | Pulikachal Recipe
Puliyogare Gojju-  it's Spicy, Tangy, slightly sweetish and the base for a tasty puliyogre! Did you know the key to make delicious puliyogare lies in the spice blend used in the making of it?
Tamarind juice along with certain additions like jaggery, chilli, cumin and other spices is reduced to a paste-like consistency. Prepare in bulk and use whenever required. To prepare puliyogare, just mix gojju and add the tempering to the cooked rice. Finely grated copra and roasted sesame seeds powder is sprinkled. Enjoy with curd/papad .. perfect comfort food!
The recipe of Puliyogare Gojju varies from region to region and my variation is passed from my mom which she learnt from her Mom … The end result will definitely remind you of temple prasadam ! Yes Iyengar style Puliyogare is best  ..isn't it ? Puliyogare is prepared in 3 stages. Preparing puliyogare powder, preparing puliyogare gojju and the last is preparing the puliyogare or tamarind rice using this gojju.
Though there are various brands of puliyogare mix available in the market somehow I still prefer making them at home. There is no preservative added and they really add flavours & fragrance to the food. I agree its little time consuming but once the job is done, store for months together and use it whenever required… Tasty puliyogare will be ready in no time.
The aroma coming out from the flavorful masalas is just overwhelming.
Few simple points to note while making this Iyengar style Puliyogare Gojju are as follows :
Use dark tamarind for good colour. New lighter tamarind will give pale-looking puliyogare .
It keeps well for a long time. Just make sure you use a clean and dry spoon to take it out.
use peanut oil/sesame oil for extra taste.
Use chilli and jaggery as per your taste.
I don't like adding Tadka while storing the paste as the peanuts and chana dal become soft and lose the crunchiness. So I suggest you, to add the tadka freshly while preparing the Puliyogare.
So here i share with you all the method of preparing authentic Iyengar style Puliyogare Gojju recipe… Here you go …
Check Out the Video recipe here :
You may also check Vangibath masala powder, Bisi bele bath powder , Rasam powder , sambar powder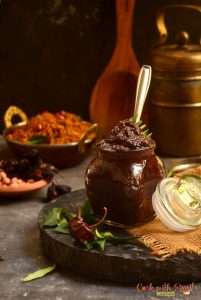 IYENGAR STYLE PULIYOGARE GOJJU RECIPE / PULIYODHARAI MIX RECIPE / TAMARIND RICE MIX
Ingredients 
ingredients for large quantity
250

gm

Tamarind

orange size

Jaggery

Salt to taste

1/2-3/4

cup

Oil
to make Masala Powder
10 - 20

nos

Red chilies

,

based on your spice level

1

cup

Coriander Seeds /Dhania

2-3

tsp

Cumin seeds / jeera seeds

1/2

tsp

Fenugreek seeds/ methi

1-2

tsp

Black Pepper

1/2

tsp

Asafoetida/ hing

2

tsp

Black sesame seeds / til / ellu

few

Curry Leaves

1-2

tsp

Oil
Instructions 
Soak tamarind in warm water for 2-3 hours.

As the tamarind is soaking in water, Heat a pan and dry roast the sesame seeds under medium flame. Roast until they start spluttering. Keep it aside.

Prepare the masala powder. Take all ingredients mentioned under masalas like Red Chillies, Coriander Seeds, Cumin seeds, fenugreek seeds, pepper, asafoetida and curry leaves into a frying pan or Kadai. Add 1-2 tsp oil

Fry til the spices are aromatic and until you observe a slight colour change in the spices. Keep aside the roasted spices to cool.

Transfer the roasted sesame seeds and spices into a dry mixie jar. Grind until a fine powder. Keep aside to use later.

Now, Squeeze the soaked tamarind and extract the tamarind pulp .

Add some more water, squeeze the left over extract and Extract the pulp to the maximum. Do this process for 2-3 times, till all the tamarind juice is fully extracted.

Transfer it to a thick bottomed iron pan and let it boil on medium heat. Let the pulp reduce a little before adding jaggery and salt.

after 5-6 mins, Add in jaggery and salt, continue boiling it under low flame.

After the tamarind juice has thickened a bit ( after 8-10 mins ) add in puliyogare powder that we have made above. Mix really well.Alternatively, if you want, you can use rasam powder.Keep on medium-low flame and cook with lid closed. Mix in between to avoid burning. Don't forget to cook with closed lid. Else your kitchen slab would have turned a mess :(...

Also, add in oil.

Continue stirring under low flame. When it becomes slightly thick like a paste and starts leaving oil. Switch off the stove. Let Puliyogre mix cool completely. As it cools, it will thicken more and be like jam.

Once Puliyogare gojju is cool, store it in an airtight container.