PULIYOGARE RECIPE WITH STEP BY STEP PHOTOS | HOW TO DO TEMPLE STYLE PULIYOGARE | KARNATAKA STYLE PULIYOGARE RECIPE | TAMARIND RICE RECIPE WITH STEP BY STEP PHOTOS | PULIYODHARAI RECIPE | PULIHORA RECIPE
Puliyogare is one of the traditional neivedhyam South Indian dish that is prepared during festivals / when you want to cook something in a jiffy / when you don't have any veggies in stock/ want to pack a quick lunch box !! Yes friends, if you have cooked rice and Puliyogare mix ready, making this easy, simple and yummy variety rice  " Puliyogare  " hardly takes 10 minutes … tangy and spicy it's one of my all-time fav !!
Making Puliyogare is very easy but most of the people complain that their Puliyogare does not taste as yummy as the temple ones. Hmm.. I agree temple prasadams are so finger-licking. There was a time, I used to visit temples just for these prasadams. The recipe that I am sharing today, tastes almost exactly like the temple style Puliyogare with a divine taste. My variation is passed from my mom which she learnt from her Mom … The end result will definitely remind you of temple prasadam ! Yes Iyengar style Puliyogare is best  ..isn't it? It's usually prepared in 3 stages. Preparing puliyogare powder, preparing puliyogare gojju and the last is preparing the puliyogare or tamarind rice using this gojju.
The recipe of Puliyogare varies from region to region and known by different names in different states like Puliyogare / Puliyodharai / Pulihora / Tamarind Rice and the end taste also varies based on in which region it is made at. So here I share with you all the method of preparing authentic Iyengar style Puliyogare recipe. Addition of black sesame and raw sesame oil used while mixing Puliyogare makes all the difference.  Also, the roasted dal pepper powder added gives an extra taste. I wouldn't recommend to skip it until and unless you are really pressed out of time. And above all perfect Puliyogare Gojju is the base for a tasty puliyogre! To prepare puliyogare, just mix pre-made gojju and add the tempering to the cooked rice. Finally, grated copra and roasted sesame seeds powder is sprinkled. Enjoy with curd/papad .. perfect comfort food!
So here I share with you all the method of preparing authentic Iyengar style Puliyogare recipe with video… Here you go …
Check Out the Video recipe here :
For more Karnataka style rice varities do check Vangibath , menthe bath , bisibele bath etc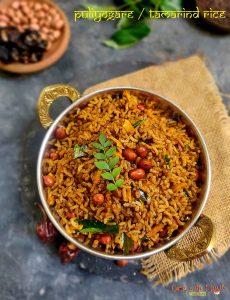 PULIYOGARE RECIPE
Puliyogare recipe is a south indian style tamarind rice
Ingredients
1

cup

Cooked Rice

2-3

tbsp

Puliyogare gojju

2-3

tsp

Sesame Oil

Salt to taste

Dry Coconut / Kopra for garnishing

,

optional
For the seasoning
2-3

tsp

Oil

1/2

tsp

Mustard

1

tsp

Black Gram /split Urad Dal

1

tsp

Bengal Gram /split Chana Dal

few

Peanuts / cashews

2

nos

Red Chilli

,

broken

few

Curry Leaves
Spl masala ( Dont skip )
1/2

tsp

Blackgram / urad dal

1/2

tsp

Bengal Gram /Chana Dal

7-8

nos

Black Pepper

1-2

tsp

Black sesame / Til
Instructions
Wash rice and cook it in the proportion 1: 2.5/3 ie 1 glass rice,2.5/3 glass water. The cooked rice grains should be separate,not mushy. Once cooked, spread the cooked rice on a wide plate. This will make the grains separate further & also helps to cool quickly. It has to be cooled properly before using.

In a Kadai / pan, dry roast black sesame till it splutters. I have used uchellu ( Niger Seeds / Karale ) as it enhances taste more.

Keep aside sesame seeds.

To the same kadai ,add few drops of oil and roast chana dal,urad dal and pepper till it gives out a nice aroma. Cool and set aside.

Transfer the roasted spices , to a mixer and dry grind them to make a powder ( no need super smooth ) .

Keep the sesame dal powder aside.. to use later.

In a kadai / pan heat oil . Once its hot add mustard, lentils, peanuts. Once they splutter add curry leaves and broken red chilli .

Add cooked cooled rice to the masala and mix such that everything is combined well .

Add sesame oil, sesame dal powder and grated dry coconut ( kopra ) ..mix nicely. Let puliyogare sit for some time so that flavours get enhanced.

Serve Puliyogare as such or with papad or with curds. Personally, I love to have this with thick curd because of its sweet-sour-spicy flavour .