Remember Popeye? Yes the famous cartoon character.. who would get instant superhuman strength and problem solving abilities to defeat the villain by popping in a can full of spinach.Lol!! his biceps would bulge by gulping spinach and off he would go saying "I'm strong to the finich .Cause i eats me spinach..". Growing up my bro was a huge fan of popeye as my son is now of Chota bheem. Now , of course, this is just a silly little cartoon meant to entertain and amuse.But it is has a wonderful message that can influence kids who are fussy eating greens . Show them the cartoon and motivate them by telling " eating spinach make you strong to overcome adversity ( read fight against villain for kids 🙂 ) ".
But why did Popeye eat so much spinach ? Thats because this veggie powerhouse is fully packed with fiber,anti oxidants,foliage,iron ,vitamins and minerals.All of these has great health benefits like prevention of anemia,cancer,cardio vascular problems,bone related problems etc.you can see more of its health benefits here .
Sharing with you all today a highly nutritious,delicious dish " Makai Palak " which is a winner in all ways!! This dish is very simple ,easy to make with very few ingredients required. Spinach and corn make a great combo. The crunchiness of corn in between is amazing and you would love it.Addition of corn would leave your kids lip smacking and you would be relieved from running behind them to make them eat greens.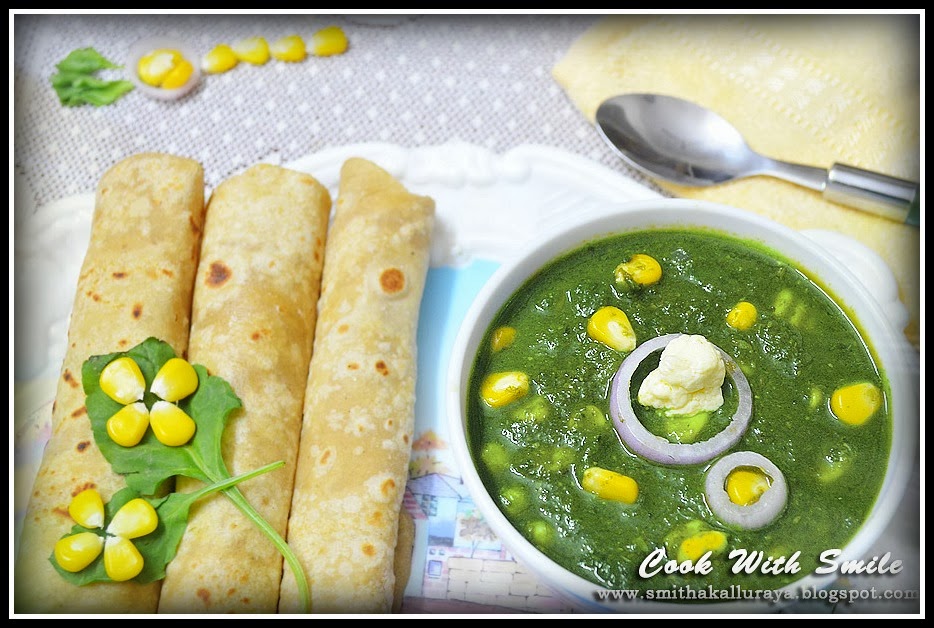 Here goes the recipe of green, healthy simple spinach corn gravy thats worth a try ..have added few notes to retain the color of spinach. Don't miss it..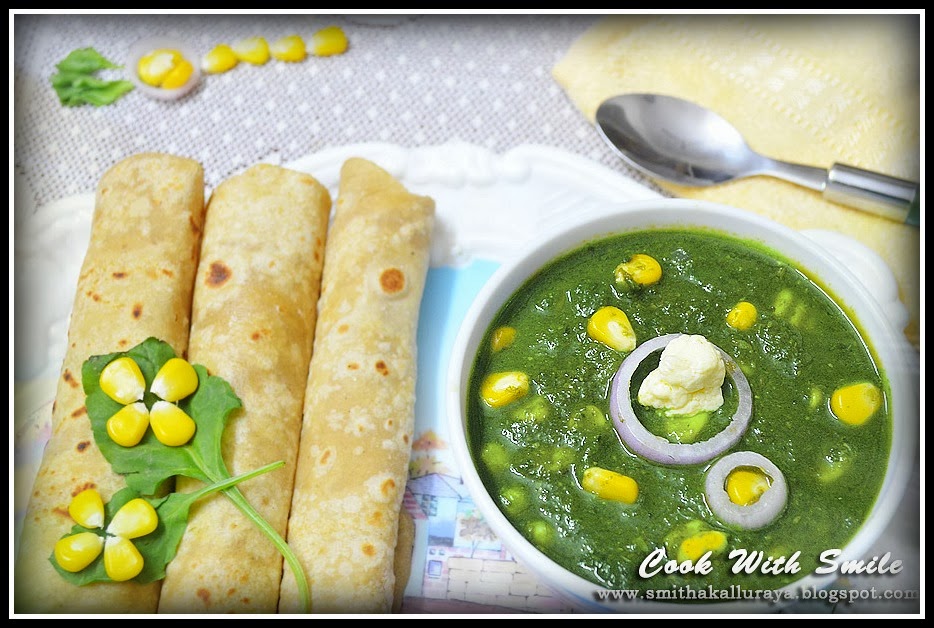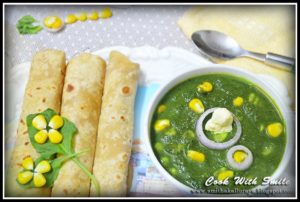 MAKAI PALAK
Ingredients
1

Big Bunch of

Spinach Palak

1

cup

corn

1

big ,diced

onion

5 - 6

flakes

Garlic

1

inch

Ginger

,

pc

4 - 6

Green Chilli

1

medium size

onion

,

finely chopped

1

Bay leaf / tejpatta

1/2

tsp

Cumin Jeera Seeds

2

tsps

Coriander powder / Dhania powder

1

tsp

Roasted Cumin powder / Jeera powder

1

tsp

Garam Masala powder

1/2

tsp

Amchoor powder

1/2

tsp

Kasoori methi

1/4

tsp

Sugar

Salt

,

as per taste

Lemon juice

1

tbsp

Oil

1/2

tbsp

Butter
Instructions
First blanch the spinach.Boil water in a big vessel and add cleaned spinach and sugar to it. Allow it in hot water for 1 min.Strain the spinach(don't discard the water,can be used in gravy),run under running water and immediately transfer it into ice cold water.Note the green color pop.

Grind diced onion,ginger and garlic. Keep aside.

Grind spinach and green chilli to a fine paste . While grinding add little lemon juice ,this will help in retaining the green color. Open the mixer jar and keep , else the color will change.

Heat oil and butter in a wok / kadai .Add bay leaf ,splutter cumin seeds.Once they crackle add chopped onion and ground onion -ginger-garlic mixture and fry well till raw smell goes.

Once they turn translucent, add dhania powder, jeera powder ,amchoor powder and kasoori methi . Mix well.

Add spinach puree, cooked corn, garam masala and salt.Mix well. If required dilute the gravy by adding strained palak water to get the desired consistency.Cook over medium flame for about 4-5 mins. Don't cover while cooking, else the green color will fade.

Remove it from stove, if req add lemon juice. Mix and serve hot with phulka / roti / naan / jeera rice.
Notes
How to retain the green color of spinach in gravy :
While blanching spinach, add little sugar . This will enhance the color .
After removing the spinach from hot water, immediately transfer it into ice water. Helps a lot in enhancing color
While pureeing spinach add lemon juice .
Don't cover while cooking, else the green color will change.
Dont over boil spinach.
If you want you can add little cream or milk or curd to the gravy to make it more rich and give some texture. However , i like it plain.
If you want u can diced ,roasted paneer too..
I have heard that adding tomato to spinach leads to kidney stones.So i never add tomato to any of my spinach dishes.
Corn can also be substituted with cubes of fresh paneer, baby corn or a combination of garden fresh veggies of your choice.