NEER MAJJIGE RECIPE | HOW TO DO NEER MORU | NEER MOR RECIPE | MASALA CHAAS RECIPE | SPICED BUTTERMILK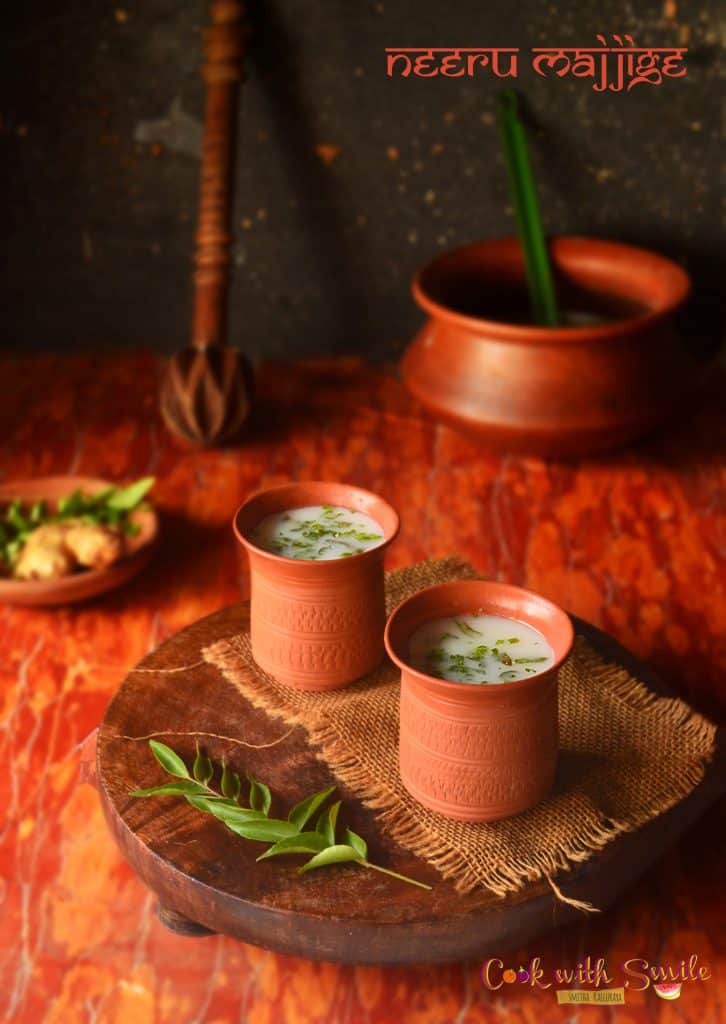 Today i have for you all an age old yet still one of the best and most preferred summer drink " Neeru Majjige / Spiced buttermilk " . It is a tasty delicious very healthy and refreshing south Indian style flavoured buttermilk.This spiced buttermilk is the perfect quencher to cool off during hot days or appetising drink after a meal . Neer Majjige is also very common during Ramanavami and Shivaratri.
Spiced Buttermilk is basically made with curd / buttermilk , water and few spices.It is known by different names in different states and each of them has a slight variation in the flavor. Known as " Neer Majjige or Masala Majjige " in Kannada , " Neer Mor " in Tamil , " Majjiga " in Telugu ," Masala Chaas" in hindi and so on.
We all know the health benefits of including buttermilk in our diet. My mom always used to churn fresh butter milk at home and flavor it up and make a big vessel of neer majjige .Though made almost everyday , we never got bored of it and would just gulp gulp whenever thirsty. The tradition continues and now my kids love this healthy low cal drink . Especially during summers i stock up in fridge .With the scorching summer, our body loses a lot of water content. To keep up with the dehydration – This drink is the solution given by our ancestors.
Making Neer majjige is actually very easy . It is very mildly spiced with a slight tinge of chilli and flavoured with herbs like coriander leaves , curry leaves and little ginger. For additional flavor one can add little pudina / jeera powder / tempering . The quantity of spices you add is actually up to your taste preference.
Few points to note while making Neer Majjige :
You can make this spiced butter milk using curd or butter milk . Traditionally , butter milk is used to make , however if you don't have use curd .
If you are using curd , add more water and blend it frothy using a mixie / blender / or the traditional age old whisker ( manthu / kadgolu ) . Quantity of water depends on how thick your curd is and the consistency you prefer.
If the curd is not tangy enough , add few drops of lime juice . Adds taste.
For additional flavor , you can add pudina / tempering .
If you want while serving , you can sieve to remove the herbs and chilli .
check out the video here :
you can check out few more healthy drinks like Green gram juice , Belada hannu Panaka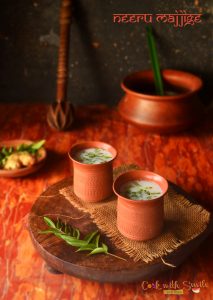 Neer Majjige or Spiced Butter milk
Neer moru or neeru majjige is a tasty delicious south Indian style flavoured buttermilk
Ingredients
2

cup

Buttermilk / Curd

4

cup

water

,

approx or as required

1

inch

Ginger piece

1

no

Green Chilli

few

sprigs

Coriander leaves

,

chopped

few

Curry leaves

,

chopped

tsp

Cumin powder / Jeera Powder

Salt to taste
Instructions
Add curd / buttermilk in a mixing bowl. Add water to it.

Whisk it using a blender / mixer till it gets thin and frothy.

To a mortor pestle , add a piece of ginger , green chilli and few coriander leaves .

Crush all the spices coarsely.

Add the crushed spices to the buttermilk . Add salt and chopped curry leaves too .

Mix the buttermilk nicely.

Spiced butter milk or neer majjige is ready .

If you don't like chilli and ginger coming in between while drinking , you can filter.`

Refreshing beverage is ready to relish . Enjoy it chilled .
Video