Avalakki Bisi Bele Bath Recipe with step by step photos | How to do Avalakki Bisi Bele Bath | Poha Bisi Bele Bath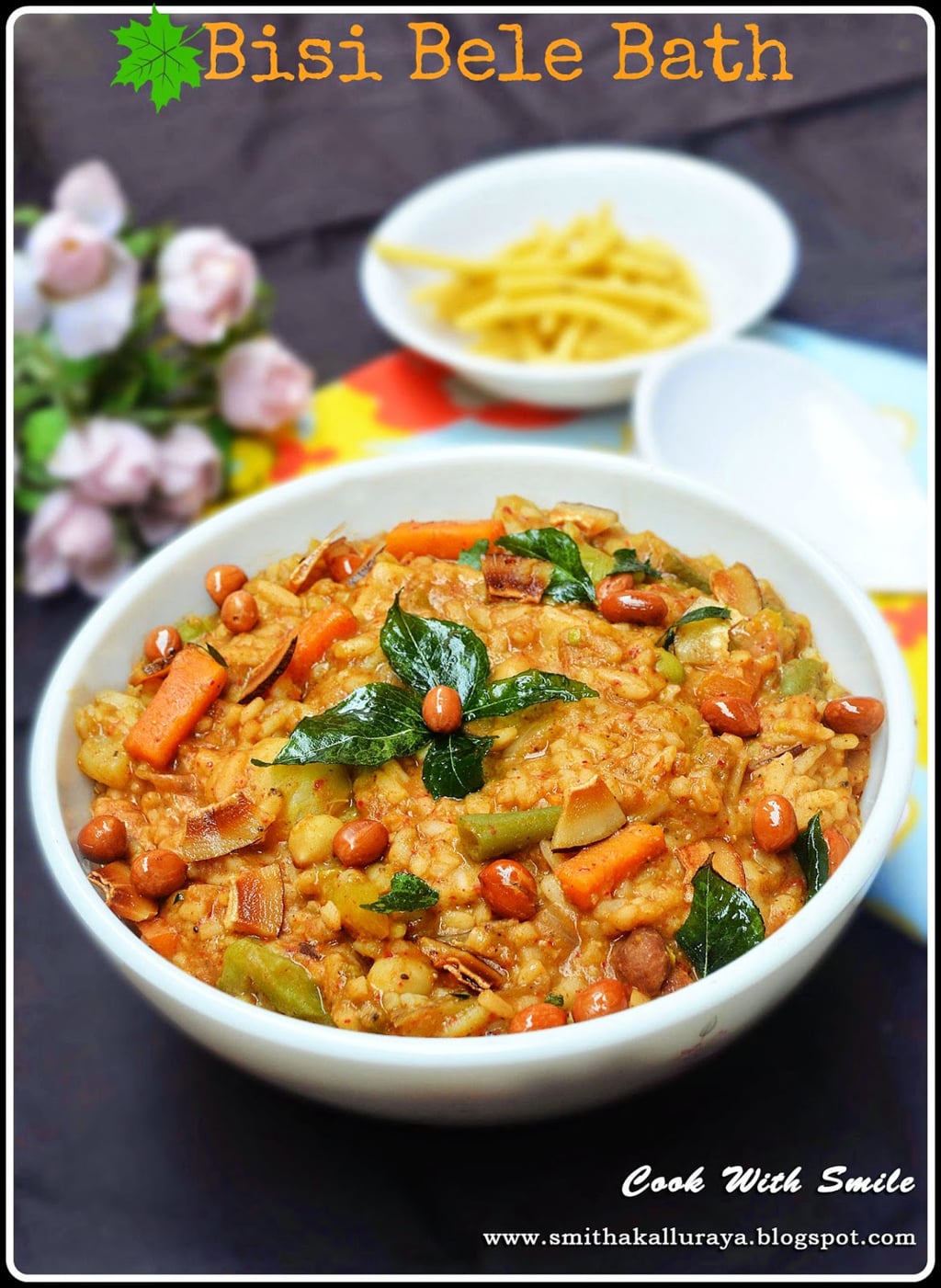 Avalakki Bisi Bele Bath – a tasty, spicy, and an easy alternative to the traditional Rice Bisi Bele Bath  … that's a perfect option to serve any time of the day. Pair it up with some raita / Boondi / Chips .. a bowl of hot steaming Poha Bisi Bele Bath is all gone ..That's how flavorful and delicious it is.  Sound's interesting right?
Poha is one great lifesaver ingredient for mornings when you don't have any dosa or idli batter in stock /whenever you have to fix something in a jiffy.  At any given time, you can find poha stocked in my pantry as it can be flavoured many ways like Avalakki Pongal , Huli Avalakki  , Gojju Avalakki , Avalakki Upkari etc and I love each of them. For today the chosen one is Poha Bisi Bele Bath. The base masala of this is almost the same as Rice Bisi Bele Bath . A gravy kind of masala is made using, veggies, lentils and Bisi bele bath powder masala and later mixed with soaked drained poha.
Bisi Bele Bath literally translates to – " Bisi – Hot; Bele – lentil; Bath – Rice item ". This dish is wholesome with rice, dal, vegetables and a special spice powder is added it to it is known as Bisi Bele Bath Masala Powder. It tastes best when served hot with some Ghee drizzled at top and little boondi / chips at side. The uniqueness of Bisi Bele Bath is its spice powder.
So for today, the chosen one is Poha Bisi Bele Bath. I am feeling happy today to share with you all signature dish of Karnataka. Some dishes never fail to bore you …though I've been eating this dish since ages, it still remains one of my favourites.
Normally bisi bele bath is made with rice ( recipe here ). But rice for breakfast is a big NO in many family :(.Rice is meant only for lunch and only sometimes for dinner. So in this recipe, rice is substituted with poha and tuvar dal is replaced with Moong dal and the best part is nobody can even make out its not rice :). Just ensure that the end result is runny-khichdi-like consistency as they tend to thicken fast.
Few points to note before making Poha Bisi Bele Bath :
If you are making for festivals you can omit onion.In Karnataka poha bisi bele bath is usually made on ekadashi and janmashtami
As per me heart of a tasty Bisi bele bath lies in the perfect bisi bele bath powder. I always make and prefer homemade bisi bele bath powder however if you want to finish it off really quick, then you can always use ready-made bisibele bath powder available in stores.
I would recommend always to add capsicum, drum stick / knol khol to Bisi Bele bath. They give a very special taste to it.
As said earlier, you can replace rice with thick poha / pre-cooked broken wheat ( daliya ) / oats/millets.
Better make the consistency of Poha bisi bele bath a bit thin. As it cools, it thickens and become a mass. So better make it runny.
If you want you can use 50:50 proportion tuvar dal: Moong dal.
So shall we proceed with Avalakki Bisi Bele Bath recipe? Here you go…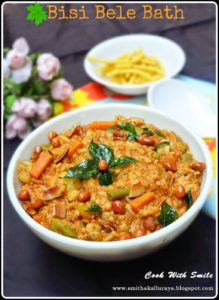 BEATEN RICE BISI BELE BATH
Ingredients
2

cup

Thick Poha / Beaten Rice / Avalakki

,

thick variety must

1/2

cup

Split green gram /Moong dal

1/2

cup

Spit pigeon pea /Tuvar dal

,

( if you want you can add just 1 type of dal,ie 1 cup of tuvar dal)

2

cup

Mixed Vegetables ( Beans, Carrot, knolkhol,Peas , Potato etc.. whichever is available )

1

big

Onion

1

medium size

Capsicum

2-3

tbsp

Bisi bele bath powder

1/2

tsp

Turmeric

lemon size

Tamarind

,

soaked in water

small piece

Jaggery

,

( optional )

Salt

,

as required
To Temper
2 - 4

tbsp

Oil/ Ghee

1

tsp

Mustard

a handful

Peanuts

few

Cashew nuts

,

Broken -( optional )

few

Dry coconut pieces

,

( optional )

few

Curry Leaves
Instructions
Chop all the vegetables. Cook them in cooker or microwave with less water, it should not get overcooked .Don't add onion and capsicum. Keep it aside for later use.

In a cooker ,cook lentils with turmeric by adding more water. Cook them mushy .When cooker has cooled, whisk through the cooked lentils to mash well.

Mean while, just wash poha ,drain water and keep aside.Do not soak it .

Heat oil/ghee in a heavy bottom pan / kadai and sauté diced onion and capsicum. Add salt.

Add cooked vegetables along with the water, mashed lentils, salt, tamarind pulp and bring to a boil .

Now add the freshly ground Bisi Bele Bath mix, stir well to break any lumps and simmer for 5-10 minutes. Check for taste and adjust tamarind, salt and spice mix. It must be strong (spicy) at this stage. Once you add beaten rice, it will absorb. If you want to add a small piece of jaggery.

Next, add beaten rice. Add more water. Let the consistency be watery. Mix well. Keep stirring in between, else the mixture will stick to the bottom. Boil well so that beaten rice absorbs spices well and get cooked. Switch off.

For the tempering: heat ghee/oil in a small kadai.When the oil is hot, add mustard seeds and peanuts. After they crackle, add small dry coconut pieces and cashew pieces. Saute on low flame till they are slight brown. Switch off and add curry leaves. Pour the tempering over the piping hot Bisi Bele Bath, cover immediately to preserve the aroma.

Bisi bele bath is ready to serve .Serve it hot drizzled with ghee as such or with potato chips / Khara boondi / Veg Raitha on the sides.