Menthe Gojju Recipe with Step by Step Photos | How to do Menthya Gojju | Methi Seeds Curry recipe with step by step photos | Sprouted methi seeds curry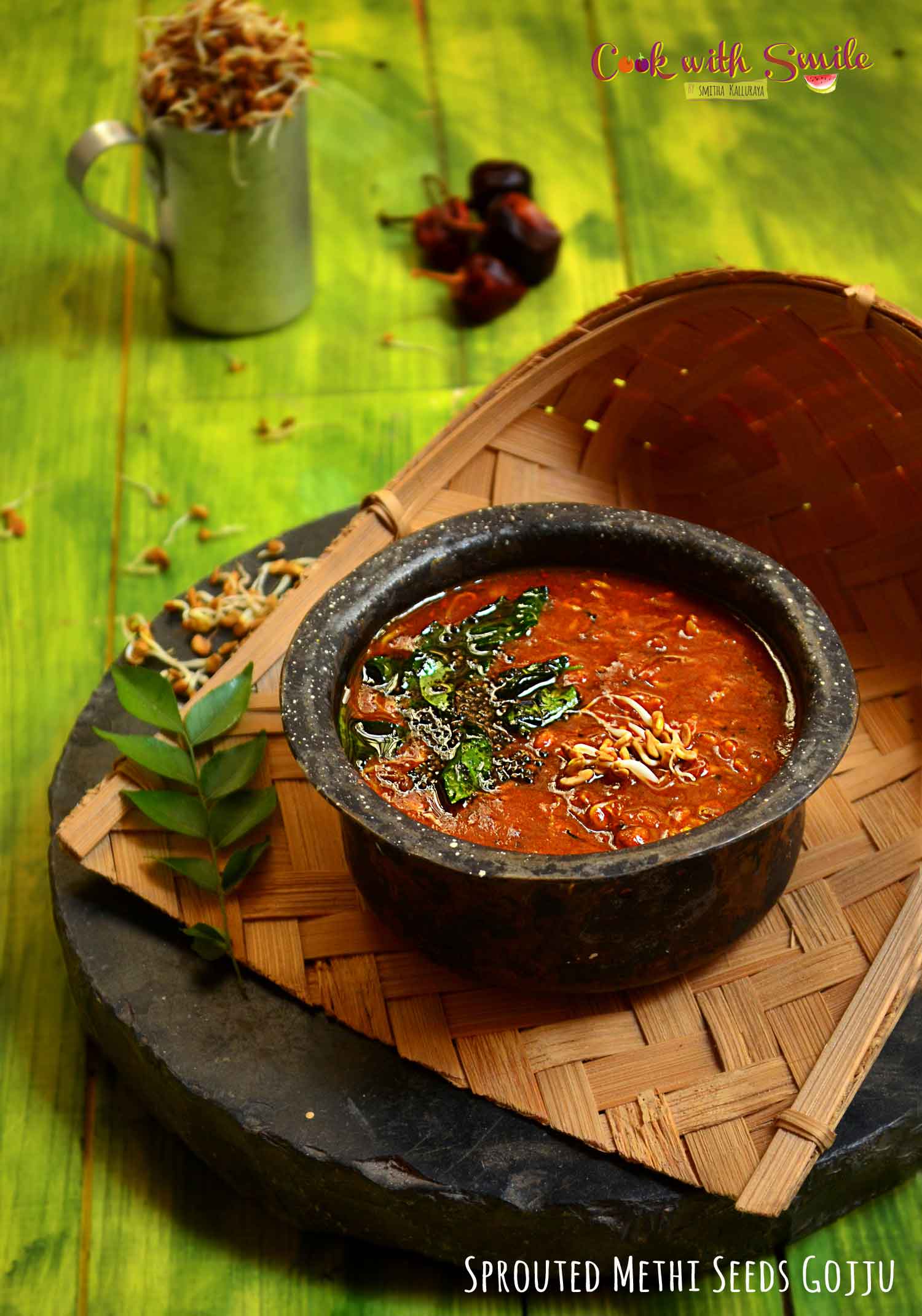 Today I have for you all  " Menthe Gojju / Methi Seeds Curry " .. a very delicious and healthy side dish for Rice/idli/Dosa. Before you run away .. thinking Omg !! Methi seeds curry !! Wouldn't it be bitter !! Who will eat … trust me they won't taste that bitter… Sprouting methi seeds and later adding to curry further reduces bitterness and makes it more delicious. Do try for sure and you will agree with me..
Cooling body naturally with natural cooling food is the best way to beat the summer heat. Sprouted Menthe gojju is apt for summer, as they naturally reduce the body heat. Tangy, spicy, little sweetish, little bitter .. it really tastes delicious. Since we would have boiled it nicely, even without fridge, it stays good for 2-3 days .. making it apt to carry while travelling too.
As we all are aware, fenugreek seeds has lot of medicinal values. They improve digestion, prevents constipation, gastritis, reduces cholesterol and blood sugar levels. Fenugreek seeds are also traditionally used to enhance milk production in lactating mothers in India. I remember my mom giving me almost every day this fenugreek dosa and methi lehya after my delivery for the initial few days. Even this earlier posted SPROUTED METHI SEEDS SALAD /  MENTHE KOSAMBARI is very healthy.
I never buy sprouts from the store but always prefer making them at home. This ensures quality and freshness of my sprouts are great it moong, channa, horsegram etc. Making sprouts at home is very easy …As we all know how healthy sprouts is.. we must include a limited quantity of sprouts every day in our diet in some form or the other. Though you can make many dishes from sprouts … salad tastes best only when made from fresh ingredients
How to get methi sprouts: Soak methi seeds in water for 5-6 hours/overnight. Later drain the water completely and tie up the drained seeds in a muslin cloth. Place the cloth potli inside a casserole or any container and keep it covered. Sprinkle little water every 12 hours or so. You will notice fresh methi sprouts coming out after 2 days … if it's winter it may take 3-4 days . When you bite the seed with the sprout .. you will be surprised that they are not that bitter any more. of the bitterness from the seed is gone. Use these sprouts immediately or keep them in an airtight container in the fridge and use by 2-3 days.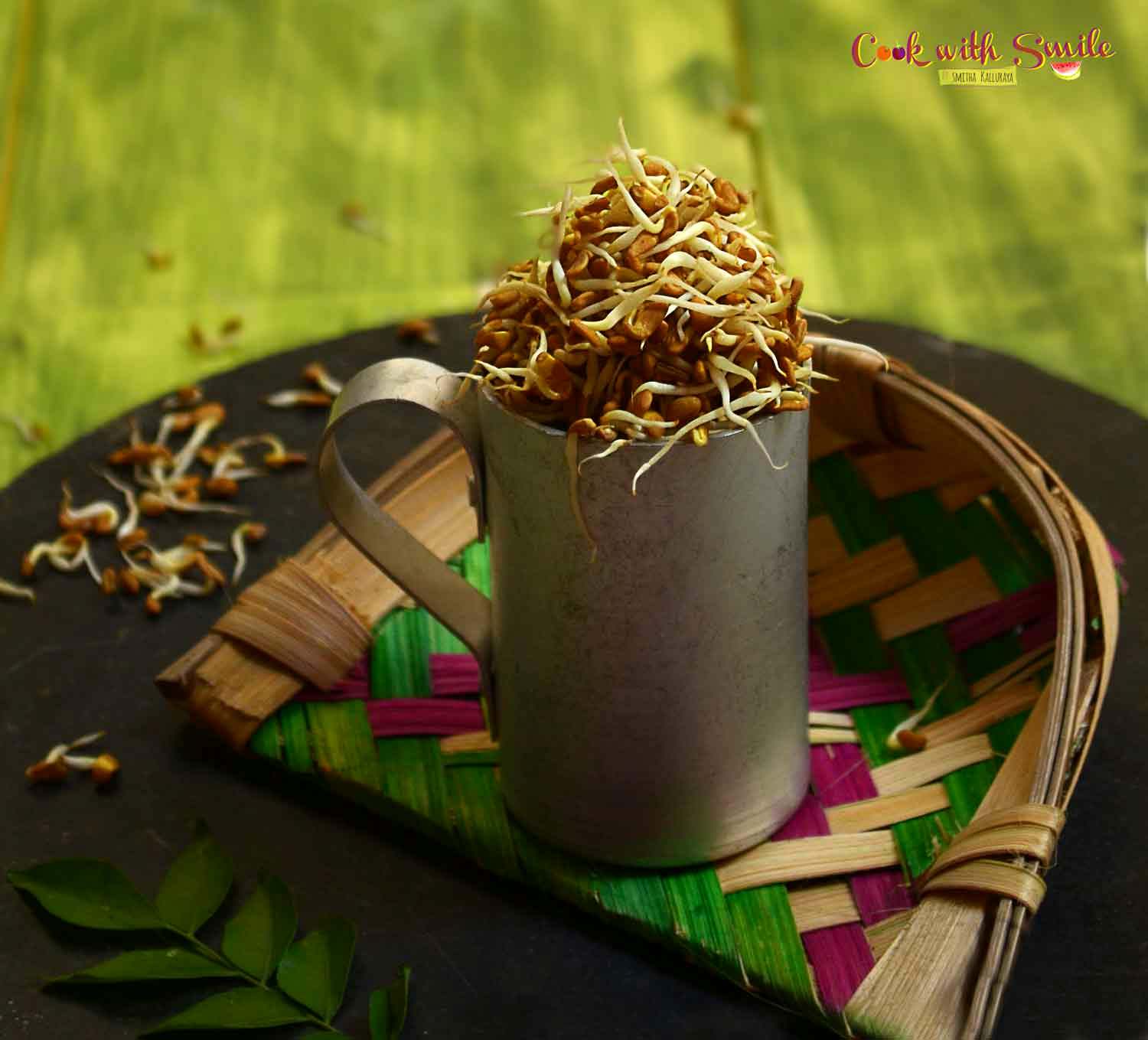 you can also check few other gojju recipes like lady's finger gojju
orange peel gojju
MENTHE GOJJU / MENTHYA GOJJU / METHI SEEDS CURRY RECIPE
Ingredients
1

cup

Sprouted Methi seeds / fenugreek seeds

1-2

nos

Green Chilli

,

slit

1-2

tsp

Rice flour

1/2

tsp

Chilli Powder

1/2

tsp

Rasam powder

lemon size

Jaggery

lemon size

Tamarind

,

soaked in water

Salt to taste
to temper
2-3

tsp

Coconut Oil / Any oil

1

tsp

Mustard seeds

1/2

tsp

Jeera / Cumin seeds

a

big pinch

Hing /Asafoetida

few

Curry Leaves
Instructions
Soak methi seeds in water for 5-6 hours/overnight. Later drain the water completely and tie up the drained seeds in a muslin cloth. Place the cloth potli inside a casserole or any container and keep it covered. Sprinkle little water every 12 hours or so. You will notice fresh methi sprouts coming out after 2 days … if it's winter it may take 3-4 days. You can store these methi sprouts in an airtight container and use for 2-3 days.

Temper in coconut oil / any oil ... mustard, jeera, hing and curry leaves.

Add 1 cup of sprouted methi seeds and slit green chilli. Saute 2-3 mins.

Add salt, haldi, chilli powder, rasam powder, jaggery, tamarind water and water. Mix everything .. cover and cook on sim for 7-8 mins. The end result of gojju will be spicy, tangy and slightly sweetish. So add ingredients accordingly.

When methi seeds have cooked, add slurry made of rice flour + water ( mix 2 tsp of rice flour with 1/4 cup water so that there are no lumps ). Mix. Simmer for few mins. Adding rice flour will help in giving nice consistency to the gojju.

Sprouted Menthe gojju is ready. .. enjoy with rice / dosa / idli . Trust me ... it will be finger licking delicious. As we are using sprouted methi seeds .. it won't be that bitter too . You will definitely end up eating extra rice 🙂