Papdi Chaat is one among those long list of Indian chaats.Papdi chaat is little crisp round spiced Indian crackers, layered with potatoes,spices,yogurt,chutneys and sev. Chutneys lends a sweet, tangy and savory taste and sev adds crunchiness .
Papdi chaat is not difficult or time consuming ,but many would not know, it can be made at home.You can buy papdi and sev ready made and store them fresh in air tight containers for 1 month.Sweet chutney/Tamarind and dates chutney/Bhelpuri chutney is also available in stores.If you have all the ingredients ready, assembling them takes only a few minutes.Next time you have to impress anyone with your cooking,serve this snack and i'm sure they would tell  – " Wow !! You did it at home ..Its so Yummy …"
 So lets begin step by step recipe of  Papdi chaat: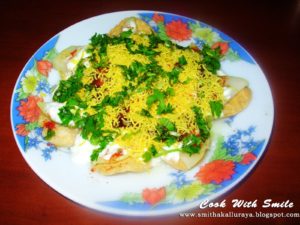 PAPDI CHAAT
Ingredients
Papdi

Boiled Potato

red Chilly powder

Chat Masala

Salt

curd

Sugar

Sweet chutney

Green Chutney

Sev

Coriander leaves
Instructions
I have given the ingredients without the quantity.You use according to your preference.Arrange the papdis on a plate.

Top the papdis with boiled sliced potatoes.

Sprinkle salt,chilly powder and chaat masala.

Beat the curd nicely with little sugar and add generous amount of it on the papdi.Drizzle green mint coriander chutney and sweet chutney as much as you want.

Now again sprinkle the spice powders.Add sev and garnish with chopped coriander leaves.Serve the papdi chaat immediately as soon as you are done preparing it.
Notes
You can add cooked chickpeas(channa) /chopped onion &  chopped tomato /pomegranate/sprouted gram too . All these are optional.
Curds should be thick If you are feeling lazy to grind green chutney , no probs omit that ingredient, still your papdi chaat tastes good. (Secret : I too am lazy at times !!)