Street food captures the heart and soul of any city.They are always famous irrespective of age and is enjoyed by one and all.Every city has its signature street food and Bangalore is no exceptional.Here you'll find some unusual chaats which are popular in Karnataka but not known to many outside.Those who have been to B'lore can vouch for a bhelpuri Gadi /stall in every street corner. And these stalls have varieties of snacks like churmuri, tomato masala, bele masala, pineapple masala, nippat masala, sovthekayi masala,baby corn masala…etc etc. These lip smacking snacks are not available in any restaurants and are pretty cheap.My mouth is watering now. Tomorrow being a Saturday, i'll attack my fav bhelpuri stall and try to recreate some recipes from there and share with you.
Today I would like to introduce you to one of those chaats which i have been preparing from long time – "Tomato Slice or Tomato Masala chaat or Tomato Puri ".This is basically a salad -type of snack,topped with raw vegetables,spices and crisps,giving a real delight to the taste buds with a crunchy ,spicy,savory and tangy taste.Confused? Salad – a snack – a street food !!!???
Yes, Tomato Slice chaat fits perfectly in all the 3 categories. It is nutritious,healthy and a good time pass snack for those lengthy chit chats.And the best part is you can recreate it at home in just a few minutes even if you have a learners license at kitchen .
So for all those Chaat lovers,calorie watchers here's a guilt free snack .. Step by step Recipe :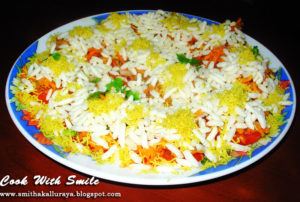 TOMATO SLICE CHAAT / TOMATO MASALA CHAAT
Ingredients
tomato

Puffed Rice / murmura

onion

carrot

Coriander leaves

Green Chutney

Sweet chutney

Chaat masala

,

Chat

Red chilli powder

Salt

Sev

,

for garnish
Instructions
I have given you the ingredients without the quantity.You use according to your preference. There is no hard rule for the measurements in this recipe.
How to Assemble:
Finely chop the onions, coriander leaves,grate the carrot & keep them aside.

Cut the tomatoes to slices (round discs).Place these slices next to each other on a serving plate

Sprinkle salt, red chilli powder,chaat masala powder over the tomato slices well.

Apply sweet chutney and green chutney on each tomato slices.

Top it with chopped onions & grated carrot on each slice of the tomatoes

Generously sprinkle sev & puffed rice

Garnish with cilantro. Serve immediately.Tomato puri is ready to eat.Lift each tomato slice with all the masala over it and dump into your mouth and enjoy the taste .....
Notes
You can add fried masala peanuts along with sev.It enhances the taste.I dint have it in stock.Hence omitted.( They are known as Congress kadlekayi in Kannada.Why Congress ?? In case if you know , share with me 🙂 )
Sprinkle some lemon juice on each of the slices if you want it to be more tangy.
You can replace tomato with cucumber.Procedure to assemble is same.For that lemon juice is a must.They too taste awesome.