Watermelon rind dosa | Watermelon rind dosa recipe with step by step photos | Water melon rind recipes
Today I have for you all a traditional coastal Karnataka dish – " Watermelon Rind Dosa " prepared from the rind of watermelon which is usually thrown as waste. Made with white part of watermelon peel, soft and fluffy, these dosas taste really delicious. One can make thin dosa's too … turns crispy. Enjoy it with a choice of chutney/sambar/chutney pudi etc. Doesn't it feel good making food out of something that's usually trash?
Watermelon is full of vitamins A, C and B6 potassium and amino acids. And it is approximately 92 % water, so very hydrating and low cal. Apparently , peels of watermelon has even more nutrients than the fruit. It has a crisp texture, tastes and looks like a cucumber/ ash gourd which making watermelon rind great for cooking. As it's mild in flavour, it takes in flavour we add, very nicely.
If we peep into traditional grandmas kitchen, we are sure to find numerous ways in which they incorporated the peels, seeds and kernels .. they would hardly throw anything and make sure all the nutrients from each veggie is utilized fully. There are so many things to learn from our ancestors, isn't it… One can make raita , palya , majjige huli etc too out of this watermelon rind.. . For now… So are you ready to jot down this soft watermelon rind dosa recipe… Here you go …So next time you buy watermelon n are about to throw the peel… U know what to do ????
You can also check few other dosa varieties like Ash gourd Rind Dosa , Raw banana Dosa , raw jackfruit dosa etc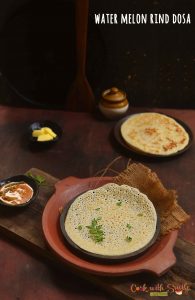 WATERMELON RIND DOSA - WATERMELON RIND RECIPES
Watermelon rind dosa is a traditional coastal Karnataka dish made using white region of watermelon peels and rice
Ingredients
4

cup

Any Rice / Dosa Rice

2

cup

Watermelon Rind

1/2

cup

Urad dal

2

tsp

Methi seeds / fenugreek seeds

,

(optional but I add as it's healthy n adds flavor)

2

cup

Puffed Rice

1/2

cup

grated coconut

Salt to taste

Oil to make dosa
Instructions
After cutting the fruit, take out the watermelon rind ( White region ). Take off the outermost green skin, as thin as possible and discard it. We would be using only the white part.

Wash & Soak rice, urad methi seeds for 4-5 hours.

An hour before grinding, add puffed rice (puri) to the soaked ingredients.

Dice roughly n grind watermelon Rind n coconut. No need to add water.

To the ground watermelon rind Coconut mix .. add soaked rice mix. Grind smooth. Add salt, mix and allow to ferment. Note that watermelon rind has a lot of water so make sure .. you grind the batter really thick. Cover and keep aside.

Morning .. you will see that the batter has fermented well. Mix and check the consistency. Add water if required to get a regular dosa batter consistency.

Heat a Tawa. Pour a ladle full of batter and do like uthappam. Drizzle few drops of oil, cover and cook.

One can make thin crisp dosa too.

Once the dosa s are cooked from one side, if you want can serve as such or flip and roast another side too.