Today i have for you all a yummy dessert which i am sure we all love anytime … that's " Eggless Choco Lava Cake " or " Eggless Molten Lava Cake " . It's chocolaty, moist and soft  and perfect for the valentine's day . There is literally no gesture more romantic than melted chocolate oozing out of a Choco lava cake … Oh Man !! the taste is still lingering as i am writing this post….
I had once been to a masterclass conducted by Chef Daniel Koshy  , the Executive Pastry Chef at JW Mariott , Bangalore . In his class he had shown making of choco lava cake . The cake was the hero that day .The chef demonstrated the making of the choco lava cake from scratch during which he shared with us many tips and secreats to make it perfect . He made the making look so simple … Once done the dessert went for baking and within few minutes the soft spongy choco lava cake was ready to relish . N Wow !! it was so yummmmm….melt in mouth… Since then i too wanted to make these choco lava cake . But the ones shown by the chef was with eggs but i wanted eggless choco lava cake . After referring many sites.. with few trials , tweaks in the recipe .. finally i am fully satisfied with my eggless choco lava cake . They are just perfect .. soft ..choclaty .. gooey .. Though i have made these eggless choco lava cake using OTG .. one can also make in microwave . Its more quicker . But one thing is sure .. which ever way you opt.. kids will just love it . Do try them for yourself and i am sure you too will love it..
You can also check few other chocolate desserts like eggless chocolate cupcake  , chocolate fudge  , cake pops etc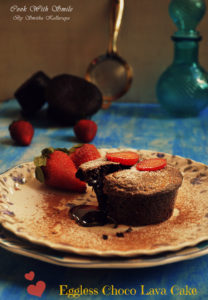 Eggless Choco Lava Cake
Ingredients
Dry Ingredient
1/4

Cup

All purpose flour / maida

1/4

cup

Sugar Powder

2

tbsp

Cocoa powder

1/2

tsp

Baking powder

1/4

tsp

Baking soda

5-6

small chunks

Chocolate Bar

a pinch

Salt
Wet ingredients
3

tbsp

Milk

2

tbsp

Yoghurt / curd

2

tbsp

Oil /Butter

1

tsp

Vanilla essence
Instructions
In a big mixing bowl, take curd and sugar powder . Whisk it gently so that curd becomes smooth and sugar dissolves .

To the curd + sugar mix, add add baking powder and baking soda.Mix gently . You will see bubbles coming out. Keep the bowl aside for 5 mins .

Meanwhile, sieve maida , cocoa powder .

Line the muffin tray with muffin liners.

Preheat the oven at 180 c

After 5 min, you will see curd mixture would have risen well with frothy texture .

Now, add half of the sieved maida + choco mix and fold it gently. Again add the remaining half and mix it slowly and nicely such that there are no lumps

Add Milk and mix such that flour is incorporated well .

Add oil , vanilla essence and salt . Mix . Choco lava cake batter is ready .

Evenly fill the muffin cup with spoonful of batter till 3/4th of the muffin cup. Place 2 chocolate pieces in the centre..

Bake in oven for 10 mins at 180 c .

Once done.. allow to cool for 2-3 minutes..

Unmold and serve hot choco lava cake with vanilla Ice Cream or as such . And when you cut through the center you can enjoy the chocolate lava gushing out. Enjoy !!!
Notes
If you are doing in microwave .. bake them for 2 - 3 mins on high power . Allow to cool for 2-3 mins and relish .
Don't fill the muffin liners more than 3/ 4 th else it will overflow while baking.
Curd reacts with baking soda and makes the cake soft and moist . So be gentle while mixing, take care that the mixture should not lose its air particles.
Always keep an eye when the baking nears the ending time. We don't want our cake to get over baked.
Once the batter is ready don't allow it to sit for sometime. You have to bake immediately.