The word " Bhurji " i am sure is not alien to any Indian . But Hey !! Its not Egg bhurji or Paneer bhurji that i am going to share today but the lesser known " Tofu Bhurji / Spicy Indian Scrambled Tofu ". Tofu is something thats still not very common in Indian Cooking. If you haven't tasted tofu yet and want to implement it in your diet , this Tofu Bhurji could be the dish you can start with . The scrambled tofu marinated in assorted Indian spices tastes not just awesome but also quick to put together and quiet versatile.Tastes great as a sidedish with Roti , sandwich , roll ,paratha etc. Next time when you want a quick fix healthy side dish ..remember Tofu Bhurji is just that….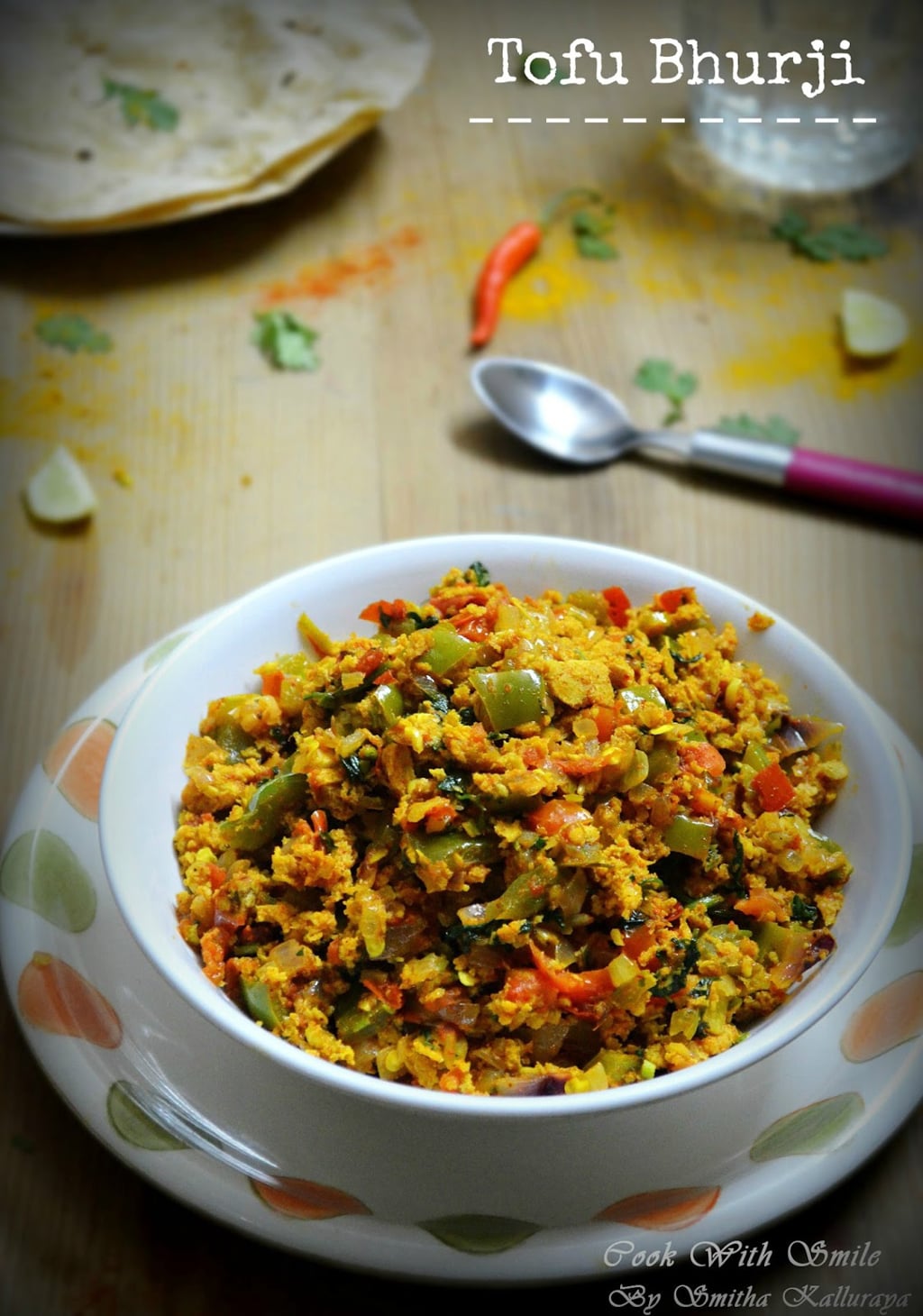 Tofu also known as vegan paneer is actually made from Soya and resembles lookwise like our Paneer. Of course taste wise there is no comaparison Tofu is bland . But Tofu , is more healthy and low cal than Paneer . With growing awareness about health , slowly Tofu more and more people have started experimenting with tofu . I too wanted to try Tofu from long time but was always skeptical as how they will taste , will i like it , does it have some weird smell etc . People who are in same phase like i was few years before , i recommend go ahead and start your experimentation with this dish, perfect for beginners . All the spices takes off the bland taste and peps it up making it a great dish fr your family.Here you go…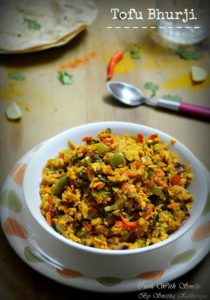 TOFU BHURJI
Ingredients
2

cups

Extra firm Tofu

1

big ,

onion

,

chopped

1

medium

capsicum

,

chopped

2

tomato

,

chopped

1

tsp

ginger-garlic paste

2

Green Chillies

,

chopped

1/4

tsp

Turmeric Haldi

1/2

tsp

Garam Masala powder

3/4

tsp

Coriander powder / Dhania powder

1/2

tsp

Cumin Powder/ Jeera powder

1

tsp

Red chilli powder

2

tsp

Oil

1

strand

Curry Leaves

1/2

tsp

Cumin Jeera

to taste

Salt

Coriander leaves
Instructions
Drain out water from tofu . For this , Place tofu block on a plate. keep another plate on it . Place a weight on the upper plate . You will see that extra water will come out from tofu after few minutes .Discard the water / use the water to knead chapathi .

Grate / crumble tofu with hands . To the crumble , add all the spice powders ie salt, chilli powder, garam masala , coriander powder and cumin powder .Mix well and keep aside .

Heat oil in a kadai/pan and add cumin . When it splutters add curry leaves ,finely chopped onions and green chillies and fry until the onions turn pink. Add ginger garlic paste.

Add chopped capsicum , saute for a min.

Add chopped tomatoes ,little salt and fry till mushy .

When tomatoes become mushy , add marinated scrambled tofu .Give a good mix and fry for 4-5 mins. Taste test . If required add some amchoor powder for tangyness .

Finally garnish with Coriander leaves and switch off .

Serve hot tofu Bhurji with Roti , stuff it to make paratha / roll / sandwich etc .Please excuse the photos, i had done it for my dinner and clicked in night .
Notes
If you want you can add few other veggies like carrot / peas etc .
The final bhurji should not be too dry .Just moist and mushy .
Replace tofu to make Paneer Bhurji .